Youth in Revolt *** (2009, Michael Cera, Portia Doubleday, Jean Smart, Steve Buscemi, Ray Liotta, M Emmet Walsh, Mary Kay Place, Justin Long, Fred Willard, Zach Galifianakis, Rooney Mara) – Classic Movie Review 4321
Ah yes, how to describe this? – a kind of teen romcom with good bad attitudes. Michael Cera is Nick Twisp, the youth in revolt, an alarmingly pale, thin weirdo 16-year-old, who will do just about anything – theft, arson, inventing an evil, moustachioed doppelganger, dressing like a woman, that kind of thing – to lose his virginity to Sheeni Saunders (Portia Doubleday), the girl of his dreams.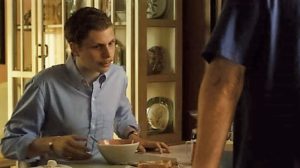 Cera is a class act, funny and charming, Gustin Nash's cute, witty, oddball (screenplay, based on C.D. Payne's novel, supports him every inch of the way, and the film's wayward mood and offbeat tone are just right. With deliciously quirky turns from Jean Smart (mum), Steve Buscemi (dad), Ray Liotta (mum's cop boyfriend), M Emmet Walsh and Mary Kay Place (as the girls' parents, Mr and Mrs Saunders), this is simply a whole load of strange fun.
Please form a small, orderly queue for this highly pleasing, bitter-sweet little item.
Justin Long plays Sheeni's older brother and Fred Willard, Zach Galifianakis, Rooney Mara and Erik Knudsen are also in the cast.
© Derek Winnert 2016 Classic Movie Review 4321
Check out more reviews on http://derekwinnert.com