Young Man with a Horn [Young Man of Music] **** (1950, Kirk Douglas, Lauren Bacall, Doris Day, Hoagy Carmichael, Juano Hernandez) – Classic Movie Review 6081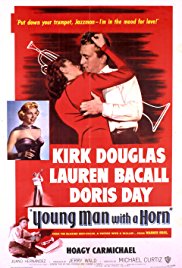 Director Michael Curtiz's 1950 biographical music drama stars Kirk Douglas as American jazz cornetist Rick Martin. Warner Bros' fictionalised biopic is based on the life of all-time jazz great Bix Beiderbecke (March 10, 1903 – August 6, 1931), though it is actually adapted from Dorothy Baker's novel.
Lauren Bacall plays Amy North, the bad gal whom young trumpeter Rick Martin falls for, and Doris Day also stars as Jo Jordan, the sweet singer who can lead him to redemption. Hoagy Carmichael (playing Smoke Willoughby) tells the tale from his piano stool and Juano Hernandez plays legendary trumpeter Art Hazzard who befriends and tutors Rick.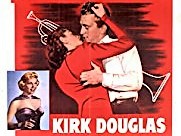 Curtiz swings the drama along at a fine lick as Rick becomes a star but is greatly troubled by his volatile personality, his personal problems and his alcoholism. Douglas's horn playing is dubbed by legendary trumpet playing band leader Harry James (March 15, 1916 – July 5, 1983) and the jazz standards will keep fans tapping their feet. The three stars are ideally cast and excellent.
Also in the cast are Jerome Cowan, Mary Beth Hughes, Nestor Paiva, Walter Reed, Jack Kruschen, Dean Reisner, Keye Luke, Jack Shea and James Griffith.
It is written by Carl Foreman and Edmund H North, shot in black and white by Ted McCord, produced by Jerry Wald and scored by Ray Heindorf.
For another version of the story, see Bix (1991).
Young Man with a Horn was hastily retitled Young Man of Music in the UK in case people got the wrong idea, just as W C Fields's The Bank Dick became The Bank Detective.
© Derek Winnert 2017 Classic Movie Review 6081
Check out more reviews on http://derekwinnert.com