You'll Never Get Rich *** (1941, Fred Astaire, Rita Hayworth, Robert Benchley, John Hubbard, Osa Massen) – Classic Movie Review 4711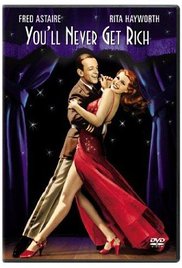 Director Sidney Lanfield's 1941 show is a very big-budget musical from the Columbia studio that stars Fred Astaire and Rita Hayworth in a 'triumphant teaming of beauty and rhythm', which, while hugely entertaining, never quite lives up to the ad's promise.
The story of a New York choreographer Robert Curtis (Astaire) staging shows for a married impresario producer Martin Cortland (Robert Benchley), whose amorous showgirl Sheila Winthrup (Hayworth) Astaire takes care of until he gets drafted, is enlivened by the fabulous dancing from the ideally paired leads, especially Hayworth, who proved to be one of Astaire's most graceful partners.
There is a rich vein of major production numbers – 'Shootin' the Works for Uncle Sam', the 50 girls and a cake extravaganza, 'Wedding Cake Walk' – and a clutch of lovely Cole Porter songs, including 'So Near and Yet So Far' and the Oscar-nominated 'Since I Kissed my Baby Goodbye'.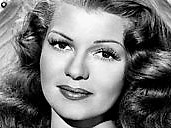 But, though there is plenty of polish in the movie, the sparkle is missing, and this good-looking, well-performed production glints and gleams rather than dazzles like some of the Astaire and Ginger Rogers movies. Philip Tannura films nicely but not in colour, unfortunately.
Also in the cast are John Hubbard, Osa Massen, Frieda Inescort, Guinn 'Big Boy' Williams, Donald MacBride, Cliff Nazarro, Marjorie Gateson, Ann Shoemaker, Boyd Davis, Hal K Dawson, Frank Ferguson, Harold Goodwin, Robert Homans, Red Mack, James Millican, Jack Rice, Tim Ryan, Frank Sully, Emmett Vogan, Harry Strang, Larry Williams, Grant Withers, Edward McWade, Garry Owen and Dorothy Vernon.
The writers of the original screenplay are Michael Fessier and Ernest Pagano.
It is the stars' first pairing, and they reconvened for the follow-up: You Were Never Lovelier (1942).
© Derek Winnert 2016 Classic Movie Review 4711
Check out more reviews on http://derekwinnert.com