Yellow Sky **** (1948, Gregory Peck, Anne Baxter, Richard Widmark, Robert Arthur, John Russell, Harry Morgan, James Barton) – Classic Movie Review 3975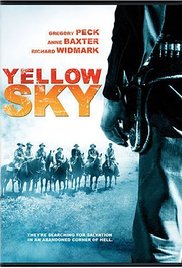 Director William A Wellman's powerful 1948 Western is a near classic. It is motored by one of Gregory Peck's top performances as Stretch Dawson, a kindly outlaw who fights one of the nastier villains he is riding with over gold that belongs to a girl who has helped them.
Richard Widmark and John Russell play Dude and Lengthy, troublesome members among Peck's outlaw gang who hide out in a ghost town where they find testy miner Grandpa (James Barton) and his tough-talking granddaughter Constance Mae 'Mike' (Anne Baxter), whom Peck naturally fancies, even of she has a boy's name.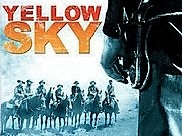 The taut direction by Wellman gets the most out of producer/screen-writer Lamar Trotti's worthy, intelligent screenplay, the striking California Desert locations (Alabama Hills, Lone Pine), Joe MacDonald's brilliant black and white cinematography and the keen support playing. Even if there is more accent on tension and character development than on action or pace, Yellow Sky always grips and impresses.
Trotti's screenplay is taken from W R Burnett's story, supposedly based on Shakespeare's The Tempest.
Also in the cast are Robert Arthur, Harry Morgan, Charles Kemper, Robert Adler, Harry Carter, Paul Hurst, Victor Kilian, Jay Silverheels, Hank Worden, William Gould, Eula Guy, Norman Leavitt and Chief Yowlachie.
© Derek Winnert 2016 Classic Movie Review 3975
Check out more reviews on http://derekwinnert.com