xXx: Return of Xander Cage **½ (2017, Vin Diesel, Toni Collette, Donnie Yen) – Movie Review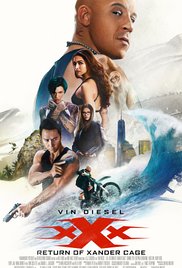 Following xXx (2002) and his announced death in xXx: The Next Level (2005), extreme athlete turned government operative Xander Cage (Vin Diesel) returns from the dead and is signed up by bossy Jane Marke (Toni Collette) and forms a new team of misfits to battle deadly Xiang (Donnie Yen) and his team to recover the sinister weapon Pandora's Box.
With Chinese investors backing the project, there is plenty to do for Donnie Yen and Kris Wu as young Nicks, and both of them do it well. Samuel L Jackson returns as Cage's handler Augustus Gibbons, but it's no more than an extended cameo. They are talky scenes, but Jackson makes it work. One of the screen's most sympathetic actresses, a miscast Collette has a bad time in a big bad girl role. She does look a bit like a rabbit in headlights for most of the movie.
Indian model and actress Deepika Padukone is also miscast and is understandably awkward as Cage's love interest Serena Unger. Brits Hermione Corfield and Rory McCann are simply just annoying as Ainsley and Tennyson Torch. It's a heavy contingent of  quirky performers – and they do try their darnedest to make the material a bit more interesting.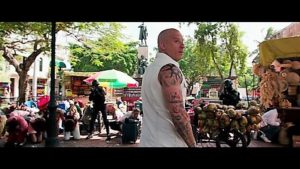 The explanation for Cage's rise from the dead is as slack and offhand as the rest of the movie, which gets by entirely on cheek and chutzpah, and a little bit on the charisma of its stars. The brainless script is as dumb as the 'speak no evil' monkey. The mostly all-action – all preposterous-action that is – movie is CGI out of control. Both these things are perfectly illustrated in Diesel's first, belated appearance in the movie as he climbs a telephone pole in Brazil to steal a device then skis through the jungle and steal a TV satellite box so Brazilians can watch the footie.
Though it obviously aspires to align itself with Diesel's Fast & Furious franchise, it seems, consciously or unconsciously, more like a parody of a Seventies Bond movie, with Diesel stuck behind the same blue screen Roger Moore was in the old days. Well, that's good, because Diesel (born Mark Sinclair) is roughly the same age Roger was around then – he's 50 on 18 July 2017, so the CGI is a bit of a life saver. It's a role for a man half his age, and for an audience about half the age of that.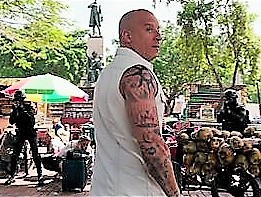 Reviving a long-dead franchise with a character you were dead in already in the previous episode was never going to be easy. Bringing back Ice Cube as Darius Stone from the woeful xXx: The Next Level doesn't really seem like a good idea at all, and just leads to more idle chatter, as, hey, the Cube can't do action. But, the film has cheek, and keeps pushing its luck.
However, the slight surprise is that it is as entertaining as it is, as brainless, over-CGI-ed action movies go. In between the chat, there is a very great deal of gunplay and violent action in extended sequences that are quite exciting, though as unrealistic as they are reprehensible. They've spent a fortune advertising it, and kept critics and their reviews away from it as long as possible, so it may do quite well.
To try to rate it, it is probably nearly as good as the first, not as bad as the second one, and not as good as any Fast & Furious film.
© Derek Winnert 2017 Movie Review
Check out more reviews on http://derekwinnert.com