Wyatt Earp ** (1994, Kevin Costner, Dennis Quaid, Gene Hackman) – Classic Movie Review 4168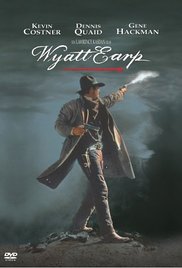 Director Lawrence Kasdan's endless, un-dynamic, sprawling and disjointedly episodic 1994 film version of the well-known, oft-related saga is admittedly ambitious but must count as a major disappointment.
Kevin Costner gives a flat, over-dominating, self-regarding performance as Tombstone Marshal Wyatt Earp, unbalancing the project by allowing too few moments for the rest of a sterling cast to make a secure impression. Costner can be really effective in Westerns, but not here.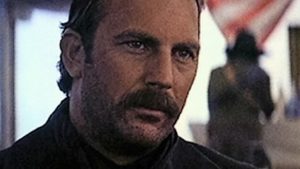 Even esteemed co-stars Dennis Quaid as Doc Holliday and Gene Hackman as Papa Earp don't really cut the mustard as they have little more than extended cameos to perform and both their star appearances seem more like guest turns rather than in-depth performances.
Owen Roizman's photography is dark, morbid and off-putting throughout, a style certainly, but a foolhardy one. And there is one of those undistinguished, insistent scores by James Newton Howard that keeps thumping away in the foreground throughout, even when the drama is perfectly able to sustain the weight of the scene.
The main problem is Lawrence Kasdan and Dan Gordon's screenplay, which runs like a Western history textbook – all 'and then, and then'. It is historically inaccurate, and has little sense of the rhythms of everyday conversation or how to tell an epic story. Worst of all, it has no grip on the myth and magic of the Western or a concept that this film needs to be greater than the sum of its endlessly accumulating parts.
Costner plays the Earp character like a conventional hero, but he is clearly written as a complex, inconveniently difficult individual, who deserves an actor who would tackle him headlong and enter into a complex critique of him. Finally, after nearly three and a quarter hours – it is an exhausting 191 minutes – the film just fizzles out without any kind of finish, like somebody had lost the last page of the script.
The DVD extended edition version is even longer and more taxing at 212 minutes.
It flopped. On a cost of $63 million, it grossed only $25 million in the US.
Also in the extremely starry cast are Jeff Fahey, Mark Harmon, Michael Madesn, Catherine O'Hara, Bill Pullman, Isabella Rossellini, Tom Sizemore, JoBeth Williams, Mare Winningham, James Gammon, Annabeth Gish, Lewis Smith, Betty Buckely, Mackenzie Astin, Karen Grassle, Téa Leoni, Brett Cullen, John Doe, Martin Kove, James [Jim] Caviezel, Todd Allen, Rex Linn, Randle Mell, Adam Baldwin, Ian Bohen and Alison Elliott.
Costner was originally involved with a rival film about Wyatt Earp, Tombstone (1993), but he disagreed with writer Kevin Jarre that the ensemble film's focus wasn't on Earp. He left the movie, teaming with Kasdan, but Tombstone was far more successful, both as a film and at the box office.
© Derek Winnert 2016 Classic Movie Review 4168
Check out more reviews on http://derekwinnert