World War Z **** (2013, Brad Pitt, Mireille Enos, Daniella Kertesz, Matthew Fox, David Morse, Peter Capaldi, James Badge Dale) – Movie Review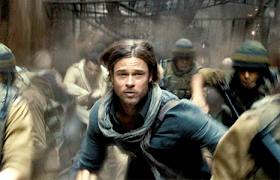 A real novelty – a zombie film made on a vast $190 million budget – produces an astounding-looking production, a mega star in Brad Pitt, and a lot of tension, scares and entertainment value.
Director Marc Forster's movie of Max Brooks's novel doesn't really come up with anything particularly new or surprising in terms of ideas or situations, but zombie fans are very well catered for and will be delighted. Though the 3D seems a pointless gimmick this time, the CGI is brilliantly used to show vast armies of invading zombies and even manages to turn Scotland into America!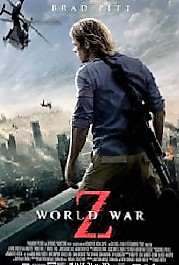 It is thrilling that we are thrown headlong straight into the action, which then never stops for nearly two hours. It's just one average morning, apparently. Pitt plays a nice American dad Gerry Lane, loving husband to Karin (Mireille Enos) and father of two nice little girls (Sterling Jerins, Abigail Hargrove), who is driving along the busy morning-rush streets of Philadelphia (filmed in Glasgow!) when zombies attack.
Isn't life a bitch? Well death is worse, especially if you're gonna be bitten by a zombie. Brad and family get the hell out. Luckily, he used to be a United Nations employee and can call in a favour to be helicoptered to safety from a building rooftop. With the family safely aboard a ship's flight deck, he's told that he's the only man who can save mankind thanks to his UN field expertise, so he reluctantly agrees to leave his family (it's OK, he'll phone on the mobile every day) and sort things out in Europe and Israel with those pesky zombies.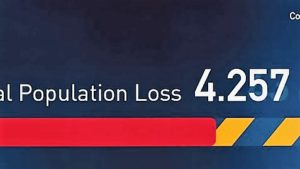 Brad ends up in Wales of all places, where he ingeniously comes up with at least an interim solution to the world's problems, at least till the sequel, I guess, thus proving he was after all the right man for the job. In the mean time of course, a lot of nice, innocent, but disposable folk die. This is a full-on horror movie, commendably serious and often grim, grisly and gruesome, and that'll please the genre fans too.
I'd have liked a bit of light and shade, a few dark-toned laughs as we go along, a bit of buddy-buddy banter. I'd have preferred the idea that this was a satire or at least sometimes told tongue in cheek. But no, this is one heck of a serious movie.
The only laughs are nervous ones, or audience members finding zombie faces and expressions funny instead of scary, and one big (probably unintentional) laugh with a cola machine. The slight problem with this is of course that it creates a one-note movie – it's definitely the right, strong and clear note but it is literally monotonous.
And that's the same with Pitt's performance: it never wavers from the grimly heroic. No worries, the movie and star turn are exactly as planned, and pretty much near perfect for what they want to do. It goes without saying that Pitt is a classy actor, gives a polished turn and makes a very fine hero, but I'll say it anyway. The same about Marc Forster's director skills, classy, fine, polished, as you'd expect from the maker of Quantum of Solace and Monster's Ball. But, oh so serious.
There are some brilliant set pieces, brilliantly staged: the armies of zombies forming a wall to get into Jerusalem is marvellously well done, the chase to get away from the undead to helicopter to safety is a real nailbiter, and the finale at the Welsh World Health Organisation (WHO) research HQ is a brilliant exercise in sustained suspense.
It must be an extremely enjoyable movie: you get swirled up into its imaginary world as a reality and it's never boring, not for a single moment. Never once pausing for breath, or any much explanation or dialogue, it rushes so fast to its conclusion that you don't see the end coming and are a bit surprised and disappointed when it's over.
It is nice to leave the cinema and find life is normal and there are no zombies in the streets, though. Or are there?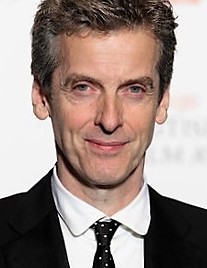 Also in the cast are Daniella Kertesz, Matthew Fox, David Morse, James Badge Dale, Ludi Boeken, Moritz Bleibtreu, Fana Mokoena, Elyes Gabel, Pierfrancesco Favino, Ruth Negga and Peter Capaldi as (WHO doctor, strangely enough).
It is rated US PG-13 for intense frightening zombie sequences, violence and disturbing images.
On 11 August 2016, it was announced that Pitt, Paramount and Skydance are in talks with David Fincher to direct the sequel to his 2013 smash hit that took over $202 million in the US.
© Derek Winnert 2013 Movie Review
Check out more reviews on http://derekwinnert