Wonder Boys ****½ (2000, Michael Douglas, Tobey Maguire, Frances McDormand, Robert Downey Jr, Richard Thomas, Katie Holmes, Rip Torn, George Grizzard) – Classic Film Review 199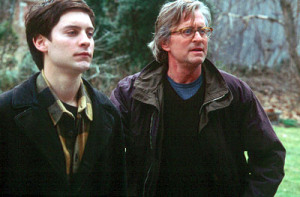 Director Curtis Hanson's rich and strange 2000 gem is a brilliant, witty, splendidly jaundiced college black comedy, with a crackling, ultra-busy script by Steven Kloves based on the offbeat novel by Michael Chabon. There was such faith in its brilliance that, when it flopped at the box office after great reviews, the studio re-launched it with a new release and fresh publicity campaign. And it flopped all over again.
Its mood of black comedy and playful cynicism just didn't hit a chord with the public. Apparently Wonder Boys isn't for everybody.
An inspired Michael Douglas is on his best, most brilliant form, perfectly cast as middle-aged, world-weary, weed-smoking Professor Grady Tripp. A sad, burnt-out case, he's a desperately troubled, rather pitiable English professor. Once he was a brilliant novelist, now he's just someone else suffering from terrible writer's block.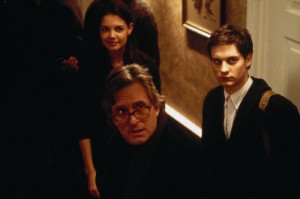 He had one smash-hit book but hasn't produced a follow-up in seven years. As his flamboyantly gay book editor Terry Crabtree (Robert Downey Jr) arrives on campus in Pittsburgh to take possession of his new, supposedly completed book, Douglas is helped to finish his latest novel by a very weird college student, James Leer (Tobey Maguire).
But it's not a really good time for Tripp. He and Leer end up on a desperate quest to find a rare jacket once owned by Marilyn Monroe, the very one she was married to Joe DiMaggio in.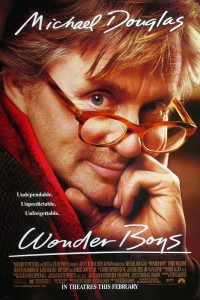 And, among a slew of other knotty problems with his friends and associates, Tripp's also got to deal with the unfortunate little problem of his third wife leaving him and his passion for his boss, the now pregnant college Dean, Sara Gaskell (Frances McDormand), wife of dull Walter (Richard Thomas). Did I mention that the college girl, Hannah Green (Katie Holmes), boarding with the Tripps has developed a crush on him? And then there's Sara dog that Leer and Tripp manage to shoot, too…
Life is a mess, but things are going to conspire to muddle along somehow anyway.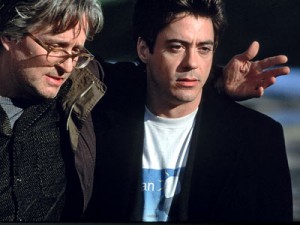 Hey, there is no shortage of plot, characters and general interest, then? Really not! The polished script provides a kind of upmarket bedroom farce that certainly should have had no difficulty being popular. And it is realised in quite a rare feast of acting from a bit of a dream cast. Downey Jr and Maguire are outstanding too in fearless, slyly funny performances and so in support are McDormand, Thomas, Holmes, Rip Torn and George Grizzard.
Despite those great reviews and the rare second release with a different media campaign I mentioned, it tragically wasn't a hit, slightly denting Douglas's star status. On a budget of $35 million, it took less than $30 million in the US.
It enjoyed another rare honour: the legendary Bob Dylan composed a new song for it: 'How Things have Changed', and it went on to win the film's only Oscar, despite nominations for the adapted screenplay and editing.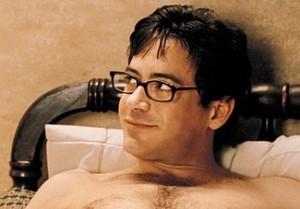 There's a great soundtrack, with other songs by Leonard Cohen, John Lennon ('Watching the Wheels') and Neil Young ('Old Man').
As you can imagine, there is strong language and drug use in the film.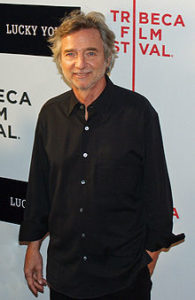 Curtis Hanson's other masterwork is LA Confidential, but lately he seems to have lost his way, though I liked 2012's Chasing Mavericks, which turned out to be his last film before his death on 20 September 2016, aged 71.
Kloves also wrote and directed The Fabulous Baker Boys and was a regular on the Harry Potter scripts.
Check out more reviews on derekwinnert.com
© Derek Winnert 2013 Classic Film Review 199 derekwinnert.com