Women in Love **** (1969, Glenda Jackson, Jennie Linden, Alan Bates, Oliver Reed) – Classic Movie Review 5455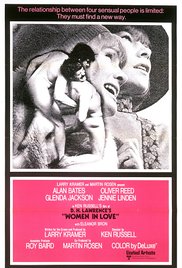 Director Ken Russell's safe and successful 1969 transition to the movies of D H Lawrence's great novel stars Glenda Jackson, who won her first Oscar for her part as Gudrun Brangwen.
The film is lit up by the excellent acting work from Jackson and Jennie Linden (as Ursula Brangwen) as the modern-thinking Twenties Brangwen sisters who enjoy stormy affairs with two best friends, rich, tough Gerald Crich (Oliver Reed) and school inspector Rupert Birkin (Alan Bates).
Around this splendid central quartet of performances, Russell coarsens (or, arguably, enlivens) things by encouraging broad turns from Eleanor Bron as artistic dilettante Hermione Roddice and Vladek Sheybal as German sculptor Loerke.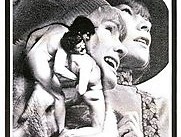 For once, Russell is on very sure ground with the story, the emotional basis of the film and the long-vanished atmosphere of the English industrial Midlands mining village. The movie only slightly goes adrift in the final quarter, when Larry Kramer's otherwise exceptional screenplay loosens its grip. But that is only a tiny quibble about a first-class piece of work that is rich and satisfying.
The two men's tastefully full-frontal naked fighting in the firelight ensured its box-office success, perhaps even more than Jackson's Best Actress Oscar win.
It is one of Russell's most satisfying films. He followed it with Lawrence's prequel story, The Rainbow, in 1989.
Also in the cast are Michael Gough, Alan Webb, Catherine Willmer, Phoebe Nicholls, Sharon Gurney, Christopher Gable, Norma Shebbeare, Nike Arrighi, James Laurenson, Michael Graham Cox, Richard Heffer, Michael Garratt, Leslie Anderson, Charles Workman, Barrie Fletcher, Brian Osborne, Christopher Ferguson and Richard Fitzgerald.
It is the first of Christopher Gable's seven films with Russell, up to The Rainbow, in 1989.
© Derek Winnert 2017 Classic Movie Review 5455
Check out more reviews on http://derekwinnert.com