Wise Guys * (1986, Danny DeVito, Joe Piscopo, Harvey Keitel, Ray Sharkey, Patti LuPone, Dan Hedaya, Julie Bovasso) – Classic Movie Review 6045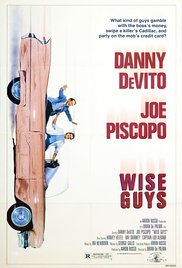 Even Danny DeVito cannot rescue director Brian De Palma's tasteless and unfunny 1986 gangster crime comedy about two hoodlums called Harry Valentini and Moe Dickstein, played by DeVito and Saturday Night Live alumnus Joe Piscopo (who proves charmless here).
The movie is a rare washout from De Palma, in the middle of his best period, sandwiched after Scarface and Body Double and before The Untouchables and Casualties of War. It flopped in America, costing $13 million and grossing $8,475,000, going straight to video in the UK.
The two Wise Guys are errand guys for the Mob, who bet and lose $250,000 of money belonging to the boss, Marco (Ray Sharkey), are tortured and then set free so they can kill each other. Instead, they run off to Atlantic City and end up getting hunted down.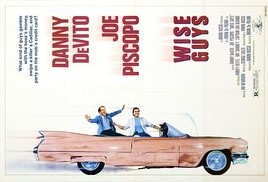 De Palma's unambitious film looks and sounds tacky, with gaudy visuals from cinematographer Fred Schuler, a feeble score by Ira Newborn and witless dialogue in the screenplay by George Gallo and Norman Steinberg.
Ace director De Palma is unable to establish a tone that could sustain it, so the movie veers erratically between the comic and the violent, and he allows the actors to turn in obvious, overstated and unappealing performances.
Also in the quality cast are Harvey Keitel, Patti LuPone, Dan Hedaya, Julie Bovasso, Lou Albano, Antonia Rey and Frank Vincent (as Louie Fontucci).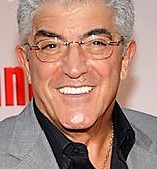 Frank Vincent died on 13 September 2017, aged 80.
© Derek Winnert 2017 Classic Movie Review 6045
Check out more reviews on http://derekwinnert.com