Winter Light **** [Nattvardsgästerna] [The Communicants] (1963, Max von Sydow, Ingrid Thulin, Gunnar Björnstrand, Gunnel Lindblom) – Classic Movie Review 4835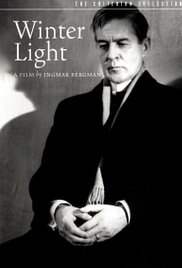 The 1963 second, middle part of director Ingmar Bergman's trilogy on religious faith stars several of his finest interpreters but is by far the starkest and most difficult of the three. It is impeccably and imaginatively shot in black and white by great cinematographer Sven Nykvist.
Gunnar Björnstrand plays a Swedish village pastor Tomas Ericsson, struggling with his faith and sliding towards atheism, and unable to tend to the difficult needs of his parishioners: eczema-afflicted schoolteacher Märta Lundberg (Ingrid Thulin) and Jonas Persson (Max von Sydow), a man overwhelmed by atom bomb paranoia.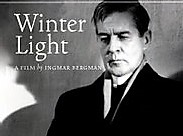 The great Swedish director turns an all-seeing eye on modern-day disillusionment and never blinks throughout this harrowing but illuminating emotional experience.
Also in the cast are Gunnel Lindblom as Karin Persson, Allan Edwall as sexton Algot Frövik, Kolbjörn Knudsen as warden Knut Aronsson, Olof Thunberg as organist Fredrik Blom and Elsa Ebbesen as widow Magdalena Ledfors.
It follows Through a Glass Darkly and precedes The Silence.
© Derek Winnert 2016 Classic Movie Review 4835
Check out more reviews on http://derekwinnert.com