Wimbledon ** (2004, Kirsten Dunst, Paul Bettany, Jon Favreau, Sam Neill, Eleanor Bron, Bernard Hill) – Classic Film Review 640
Reality is left far behind in this airy-fairy romantic comedy and oh-so-shallow sports drama that's pretty lame and useless but is a harmless time-passer and good for a few giggles. It's saved more or less singlehandedly by Paul Bettany as 31-year old wild card British tennis player Peter Colt, who's playing his last Wimbledon tournament. Could he be the next Wimbledon champion?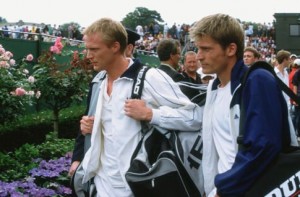 Despite sapping his energies on a love match as he falls for young American tennis star player Lizzie Bradbury (Kirsten Dunst), an inspired Peter Colt storms on to the finals of the tennis championship. Bettany makes a convincing older player and is very appealing, but there is little else to redeem this feeble 2004 movie. It is, however, very professionally produced and conscientiously handled by director Richard Loncraine, with good tennis and UK backgrounds.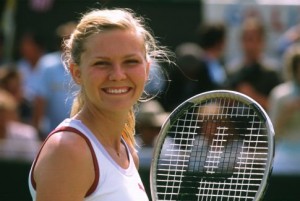 Bettany serves an ace in his first romcom role but, though Dunst looks cute and is game for it, she gives less than a championship performance and doesn't seem at home on the grass court at all. And it doesn't help that the duo share little chemistry.
Excellent actors such as Eleanor Bron and Bernard Hill (as Bettany's dotty parents whose love life is revived by his success at Wimbledon!) and Sam Neill (as Dunst's disapproving dad) are totally lost and thrown away in idiot roles. And the film reeks of an attempt to please the Americans with its touristy view of London and 'quaint' Brits.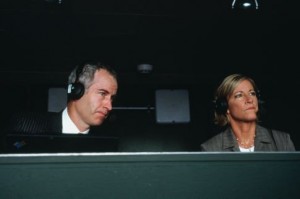 After this, producers Tim Bevan and Eric Fellner wisely decided to give romcoms a little bit of a rest.
John McEnroe, Chris Evert, Mary Carillo and John Barrett have cameos. Nikolaj Coster-Waldau, Austin Nichols, Robert Lindsay and James McAvoy are also in the cast.
The MPAA rating is PG-13 for language, sexuality and partial nudity.
© Derek Winnert 2014 Classic Film Review 640 derekwinnert.com