Willard *** (2003, Crispin Glover, R Lee Ermey, Laura Harring, Jackie Burroughs) – Classic Movie Review 4091
At long last, a great role for Crispin Glover in writer-director Glen Morgan's sharp, stylish and thoroughly enjoyable 2003 remake of the 1971 chiller in which he has the part of his life as Willard Stiles, a psychotic young bloke training a pair of rats called Ben and Socrates for revenge on his enemies.
The mayhem starts with his nasty boss Mr Frank Martin (R Lee Ermey), who makes fun of him in front of his co-workers and is trying to squeeze him out of the company that his deceased father started as well as his family home. Glover is meant to be the son of original character played by 1971 star Bruce Davison, who, supposedly dead in 1995, appears in a painting and pictures only. The story, though, is otherwise virtually the same as in 1971 and based on its screenplay by Gilbert A Ralston, as well as the source novel Ratman's Notebooks by Stephen Gilbert.
It may seem a weird thing to say, but this chiller is made with lots of love and care, plus an imaginative sense of cinema, eye-catching images and of well-judged dark humour. Once again, Ermey proves an ideal villain and worthy successor to Ernest Borgnine in the first film, and Jackie Burroughs is good value in Elsa Lanchester's old role as Willard's crazy, verbally abusive old mom, with Laura Harring in Sondra Locke' s old role as Willard's new girlfriend Cathryn.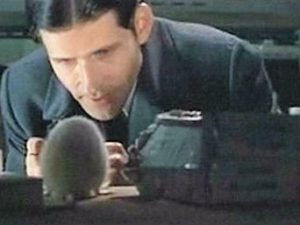 Campy but creepy, Willard is very well judged. Both Glover and Michael Jackson with the Jackson Five sing the Oscar-nominated title song, Ben's Song, by Walter Scharf and Don Black from the original Willard's sequel Ben (1972).
Also in the cast are Kim Mckamy, William S Taylor, Edward Horn, Gus Lynch, Laara Saiq, David Parker and Ty Olsson.
The British 15 certificate seems unnecessary.
© Derek Winnert 2016 Classic Movie Review 4091
Check out more reviews on http://derekwinnert