Why Him? *** (2016, James Franco, Bryan Cranston, Megan Mullally, Zoey Deutch) – Movie Review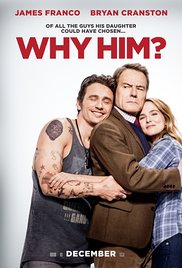 Middle-aged couple Bryan Cranston and Megan Mullally are invited by their 22-year-old daughter (Zoey Deutch) to spend the holidays getting too know her new, older Silicon Valley billionaire boyfriend (James Franco) at his modernist mansion. A surprisingly good-natured culture and generation clash ensues.
Franco wants to marry Deutch, but only if he can get Cranston's blessing. Cranston doesn't really dislike Franco, but doesn't want his daughter to marry him or anyone else just yet, at least till she finishes her studies at Stanford.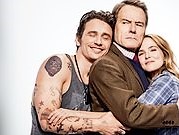 Franco and Cranston give very skillful and charismatic performances in co-writer/ director John Hamburg's mostly funny Christmas comedy, a riff on Meet the Parents (which Hamburg wrote, oddly enough). Both the actors and the film raise more laughs than expected and raise the spirits too. It's just fine that the film is more in the amusing than in the hilarious category. It gets into gear reasonably fast and stays there.
It keeps you in a good mood, and, once you are there in the zone, you stay happy way after the movie has ended. I'm happy all over again just writing about it. And next Christmas, I'll want to see it again. There's a lot of strong language, mostly from Franco of course, and some inappropriate humour, as well as and sexual comedy material throughout, but mostly it's all very downhome, sunny and sweet, with all the characters nice at heart. They get the tone just about right and keep the laughs coming.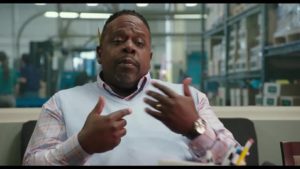 Cedric the Entertainer plays Cranston's employee Lou, Griffin Gluck plays Cranston's eager son Scotty, Zack Pearlman plays Cranston's computer expert, and Keegan-Michael Key plays Franco's weird manservant à la Cato in The Pink Panther.
© Derek Winnert 2016 Movie Review
Link to home page for more reviews derekwinnert.com