Who's Afraid of Virginia Woolf ***** (1966, Elizabeth Taylor, Richard Burton, George Segal, Sandy Dennis) – Classic Movie Review 1395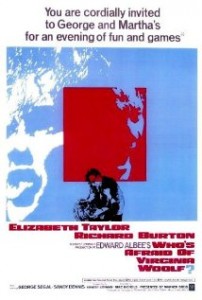 Director Mike Nichols brings Edward Albee's vitriolic, soul-searching 1962 play to the screen in a savage, razor-edged 1966 movie. It sounds like fingernails scraping down a blackboard.
You might want to turn away from the film and its characters, like you would in real life. But it is lit up with mesmerising Oscar-grabbing acting from Elizabeth Taylor as Martha, the degrading wife-from-hell, and one of Richard Burton's best performances as her husband George, the desperate college history professor with a noisy home life. Probably it is the best acting work of the Taylor-Burton screen team.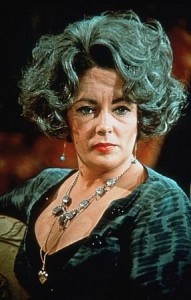 Bitter aging couple George and Martha spend the alcohol-fuelled evening of fun and games bitching and battling like a pair of mangy tired old dinosaurs, using a bewildered young couple they have invited round to fuel their own anguish and emotional pain. Who's Afraid of Virginia Woolf is set on the campus of a New England small college, and probes and dissects the appalling, volatile relationship of associate history professor George and his hard-drinking wife Martha, the daughter of the college president.
George Segal and Oscar-winning best supporting actress Sandy Dennis also make a strong impression as Nick and Honey, the timid pair the emotionally and psychologically violent duo torment in 'get-the-guest' games.
Adapted from one of the all-time great American plays, this grand guignol melodrama is basically a horror movie, along the lines of What Ever Happened to Baby Jane?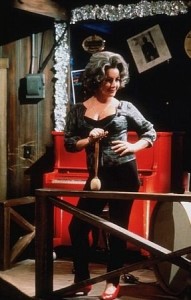 First-time film director Mike Nichols's sedately-paced shooting pays off and he handles the opening-out of the play quite seamlessly. Haskell Wexler's striking black and white cinematography won another Oscar. Producer Ernest Lehman's screenplay is impeccable.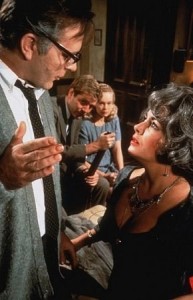 There were 13 Oscar nominations, and five wins, including also black and white art direction/set decoration (Richard Sylbert) and black and white costume design (Irene Sharaff). Curiously, although all four stars were nominated, only the women won. Burton never won an Oscar despite seven nominations. It is one of only two films to be nominated in every eligible category at the Academy Awards, the other being Cimarron back in 1931. But it lost to A Man for All Seasons (1966) for the Best Picture.
Taylor gained 30 pounds to play the frumpy, fifty-ish Martha. The film was made on location at Smith College, Northampton, Massachusetts, though it could just as easily have been shot in a film studio.
The title is sung to the tune of Here We Go Round the Mulberry Bush instead of Who's Afraid of the Big Bad Wolf to avoid paying music rights.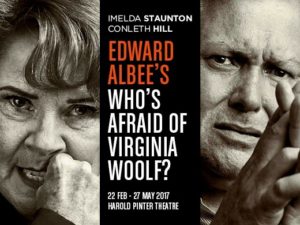 James Macdonald directs a new production of Who's Afraid of Virginia Woolf? with Imelda Staunton, Conleth Hill, Luke Treadaway and Imogen Poots at London's Comedy Theatre 22 February – 27 May 2017.
In the TV 3rd Rock from the Sun episode Dick in Law, Mary's squabbling parents are named George and Martha. Elaine Stritch and George Grizzard who play them were in the original Broadway production, Stritch as understudy to Uta Hagen's Martha, and Grizzard as the original Nick.
Three-time Pulitzer Prize-winning playwright Edward Albee, known for Who's Afraid of Virginia Woolf? (1966), A Delicate Balance (1973), and The Ballad of the Sad Cafe (1991) died on September 16 2016, aged 88.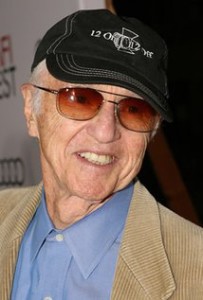 Haskell Wexler, the cinematographer on Sixties and Seventies classics, including Who's Afraid of Virginia Woolf?, In the Heat of the Night, The Thomas Crown Affair (1968), Faces, The Conversation, One Flew Over the Cuckoo's Nest (1975), Bound for Glory (1976), and Coming Home, died peacefully in his sleep on December 27 2015, aged 93.
Considered one of the ten most influential cinematographers in movie history, he won Best Cinematography Oscars for Who's Afraid of Virginia Woolf? and Bound for Glory and was nominated for One Flew Over the Cuckoo's Nest, Matewan (1987) and Blaze (1989).
© Derek Winnert 2014 Classic Movie Review 1395
Check out more reviews on http://derekwinnert.com/