Whoever Slew Auntie Roo? *** (1972, Shelley Winters, Mark Lester, Chloe Franks, Ralph Richardson, Lionel Jeffries, Hugh Griffith) – Classic Movie Review 4819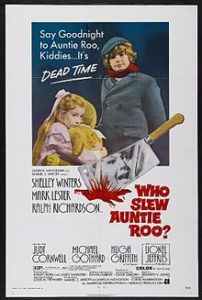 Director Curtis Harrington's bizarre 1972 British horror thriller is his entertaining follow-up to his 1971 What's the Matter with Helen? and reunites him with one of its stars, Shelley Winters, who plays dotty old Auntie Roo, a closeted one-time singer who now sees no one, never goes out and keeps her long-dead only daughter's body in a coffin in her dark house.
Auntie Roo takes in a couple of Hansel and Gretel-like orphan kids, Christopher and Katy Coombs (Mark Lester, Chloe Franks), who understandably feel quite threatened by her.
Harrington's disturbing movie is an occasionally overwrought though sometimes thoughtful and intelligently handled Grand Guignol chiller, with a generous exploration of character until the inevitable descent into gruesome horror at the finale.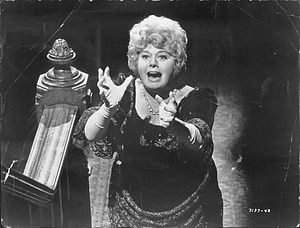 At the head of a good, on-form cast, Winters is a lot of fun in her over-the-top potty dame demented widow role. Also in the cast are Ralph Richardson as Inspector Ralph Willoughby, Lionel Jeffries, Hugh Griffith, Judy Cornwell, Michael Gothard, Rosalie Crutchley, Pat Heywood, Jacqueline Cooper, Richard Beaumont and Marianne Stone.
The original screen story is by David D Osborn. The screenplay is written by Robert Blees, Jimmy Sangster and Gavin Lambert (additional dialogue), and the film is shot by Desmond Dickinson, produced by Samuel Z Arkoff, James H Nicholson and Louis M Heyward, scored by Kenneth V Jones and designed by George Provis.
Winters requested that Harrington direct the film.
It follows the successful course charted by What Ever Happened to Baby Jane? and Hush, Hush, Sweet Charlotte and What Ever Happened to Aunt Alice?.
© Derek Winnert 2016 Classic Movie Review 4819
Check out more reviews on http://derekwinnert.com