White Zombie **** (1932, Bela Lugosi, Madge Bellamy, Joseph Cawthorn) – Classic Movie Review 4422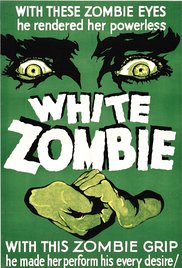 Director Victor Halperin's haunting 1932 74-minute horror movie is cheaply made and poorly acted. But it is a vintage classic none the less thanks to its exotic sets, eerie atmosphere, strange music and weird images, plus Bela Lugosi at his best. It is notable as the first feature length zombie film, the archetype and model for all the zombie movies that followed.
Lugosi stars as Murder Legendre, evil voodoo master and satanic king of the zombies down Haiti way. He supplies workers for the local sugar mills and lures away a beautiful young woman called Madeleine Short (Madge Bellamy), who has newly arrived there to wed bank employee Neil Parker (John Harron) and transforms her into a zombie.
Robert W Frazer plays Charles Beaumont, as a fellow travelling plantation owner who is also in love with Madeleine, and, when they arrive in Haiti, asks for Legendre's help to get her. [Spolier alert] But later Beaumont and Legendre fight to the death over her body.
Also in the cast are Joseph Cawthorn as missionary Dr Bruner, Brandon Hurst as Beaumont's butler Silver, Frederick Peters as former executioner Chauvin, George Burr Macannan as zombie Von Gelder and Clarence Muse as Madeleine and Neil's coach driver.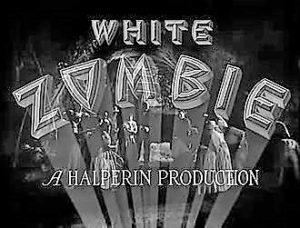 It is written by Garnett Weston, based on the 1929 novel The Magic Island by William Seabrook, shot in black and white by Arthur Martinelli, produced by Edward and Victor Halperin and scored by Abe Meyer. The music is another important ingredient. Meyer had orchestras record new versions of classic compositions, including Mussorgsky's Pictures at an Exhibition, Gaston Borch's Incidental Symphonies and Hugo Riesenfeld's Death of the Great Chief, as well as music by Richard Wagner, H Maurice Jacquet, Leo Kempenski and Franz Liszt.
Most strikingly, the film begins with Chant, a composition of wordless vocals and drumming, created by Universal Studios employee Guy Bevier Williams, a specialist in ethnic music.
American Securities produced the film and it was released by United Artists.
It was filmed in 11 days in March 1932. Much of it was shot on the Universal Studios lot, re-using props and scenery from their horror films, and the rest at Bronson Canyon. The small budget necessitated night-time filming.  Set designer Ralph Berger used the sets of the great halls from Dracula (1931), pillars and a hanging balcony from The Hunchback of Notre Dame (1923), the dark corridors from Frankenstein (1931) and chairs from The Cat and the Canary (1927). No wonder it looks great!
Defying poor reviews, especially for the acting, the independent feature made a substantial profit, though it was less successful than Universal's classic horror movies.
Legendary Jack Pierce (Frankenstein, The Wolf Man and The Mummy) was Lugosi's make-up artist.
The first screening on June 16 1932 in New York City was a 74-minute version, but distribution prints ran for only 69 minutes.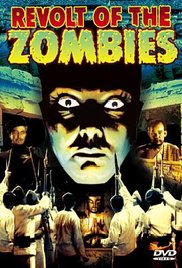 A sequel, Revolt of the Zombies, was released in 1936, alas without Lugosi.
Bellamy recalled that Lugosi was very pleasant and that he kissed her hand in the morning when they came on to the set. It is thought that Bellamy and Lugosi were both paid $5,000.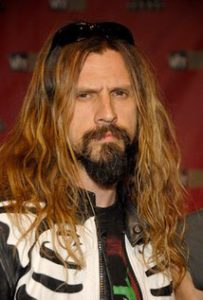 Rob Zombie co-founded the American heavy metal band White Zombie, named after this film. Geffen Records released their third studio album, 'La Sexorcisto: Devil Music Volume One' in 1992, selling more than two million copies in the US. White Zombie released their fourth and final album, 'Astro-Creep: 2000 – Songs of Love, Destruction and Other Synthetic Delusions of the Electric Head', in 1995 before disbanding in 1996.
Zombie says: 'It's a great film that not a lot of people know about. It amazes me that a film that is so readily available can be so lost.'
© Derek Winnert 2016 Classic Movie Review 4422
Check out more reviews on http://derekwinnert.com