White Man's Burden ** (1995, John Travolta, Harry Belafonte, Kelly Lynch, Margaret Avery) – Classic Movie Review 4947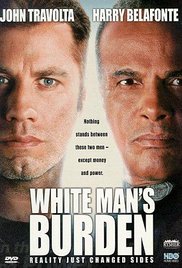 Writer-director Desmond Nakano's provocative 1995 drama is set in an alternative America where the blacks belong to the social elite and the whites inhabit inner city ghettos.
It stars John Travolta as Louis Pinnock, a white blue-collar worker who unwittingly offends a wealthy black businessman, CEO Thaddeus Thomas, (Harry Belafonte), leading to Louis losing his job, home and family, and getting beaten by black cops. In desperation he kidnaps Belafonte at gunpoint, demanding justice but propelling himself ever more resolutely towards tragedy.
Strong though the well-meaning premise and intense performances are, Nakano's undernourished, depressing screenplay prevents the film from realising its full potential and making the necessary impact. The movie does not really work as a thriller, which would certainly have made it more entertaining. It remains in the interesting category, though, as a worthy failure.
At 88 minutes, it is suspiciously short, so it looks as though it has been much pared down, though even so it seems quite long enough.
Also in the cast are Kelly Lynch as Marsha Pinnock, Margaret Avery as Megan Thomas, Carrie Snodgress, Andrew Lawrence, Bumper Robinson, Tom Wright and Sheryl Lee Ralph.
I need hardly tell you that this was not a box office hit, taking only $3,760,000 in US cinemas.
© Derek Winnert 2017 Classic Movie Review 4947
Check out more reviews on http://derekwinnert.com