White Heat ***** (1949, James Cagney, Virginia Mayo, Margaret Wycherly, Edmond O'Brien) – Classic Movie Review 147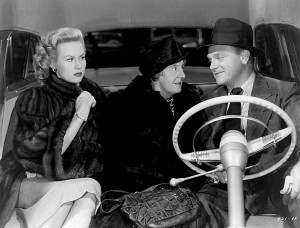 A perfectly cast James Cagney is brilliant as psychotic, epileptic gangster Cody Jarrett, fixated on his conniving mother Ma Jarrett (Margaret Wycherly) in this awesome gangster movie from 1949. These are truly a couple of memorably crazy characters!
Virginia Kellogg's Oscar-nominated original story and Ivan Goff and Ben Roberts's screenplay turn up the heat on the gangster movie to white hot, reflecting a change in the times in the 40s. Apparently, the movie seems to be saying, life is more desperate and crime much nastier than it was in the 30s.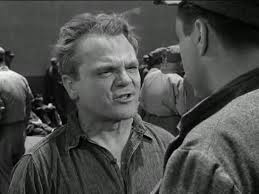 Jarrett's head henchman tries to have him killed while he's in jail so that he can take over. But then the Los Angeles police send in undercover cop Edmond O'Brien under a false name to try to bust Jarrett and his gang. The dogged cop pretends to be a prisoner and saves Jarrett's life, and they become supposed close friends. Jarrett escapes from jail and returns to assemble his old gang to carry out a payroll heist on a chemical plant. All seems well, until the inevitable final betrayal.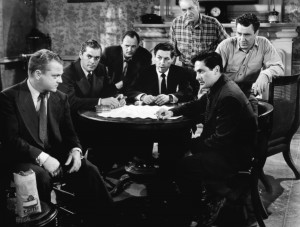 One of Cagney's finest films, maybe his best gangster movie, this vintage Mob thriller is a triumphant return to his great 30s form, after a decade away from gangster parts that made and kept him famous (1931's The Public Enemy, 1938's Angels with Dirty Faces). Propelled by a dynamic score by Max Steiner, it's a model exercise in suspense, action and character building.

We get to know and understand Cagney's Jarrett, who then becomes worryingly sympathetic. When Cagney isn't sitting on his mother's knee ('all I ever had was ma') or ignoring his wife Verna (Virginia Mayo), he's battling his neuroses, headaches and personal demons, real and imagined, while handing out the tough stuff.
Wycherly is astounding as Ma Jarrett, making the utmost of her grandstanding opportunity in her finest appearance in the movies. The always admirable O'Brien, the forgotten Mayo and Steve Cochran as the treacherous Big Ed Somers are all excellent too

Director Raoul Walsh matches his star for toughness, tension and speed, and is rewarded with a classic movie that propels headlong all the way to its electrifying end ('Top of the world, ma!).
© Derek Winnert 2013 Classic Movie Review 147
Check out more reviews on http://derekwinnert.com/
http://derekwinnert.com/the-killers-1946-burt-lancaster-ava-gardner-classic-film-review-1137/
http://derekwinnert.com/criss-cross-1949-burt-lancaster-yvonne-de-carlo-dan-duryea-classic-movie-review-1579/