White Cargo *** (1942, Hedy Lamarr, Walter Pidgeon, Richard Carlson, Frank Morgan, Bramwell Fletcher, Richard Ainley, Reginald Owen, Henry O'Neill) – Classic Movie Review 6299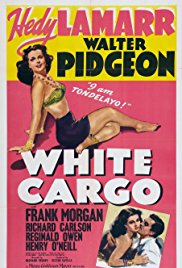 Director Richard Thorpe's 1942 MGM film is a daft, but endearingly simple-minded old-style romantic adventure drama movie of love-hate triangle goings-on in the jungle, with Leon Gordon adapting his own play from 1923.
Walter Pidgeon stars as Brit Harry Witzel who has gone over to Africa to work on a British rubber plantation in the Congo in 1910, where his recently appointed helper Langford (Richard Carlson) finds his brain addled by the heat and the sweet charms of the local temptress Tondelayo (Hedy Lamarr). Carlson's Langford soon goes to the dogs after he sees gorgeous Lamarr's Tondelayo ('I am TONDELAYO!') do her native dance. Hedy Lamarr. Lovely Hedy Lamarr. How she dances!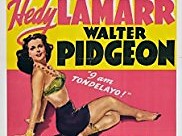 MGM throws in a good selection of sterling star character actors such as Frank Morgan (as the Doctor), Bramwell Fletcher (Wilbur Ashley), Richard Ainley (Mr Worthing), Reginald Owen (Skipper of the Congo Queen) and Henry O'Neill (the Reverend Dr Roberts), as well as the main stars.
Pidgeon gives a high-flying performance, there is heady stuff from the lovely Hedy, and director Thorpe does his best to raise the temperature of an ancient tepid play. Time has given the movie an amusingly campy veneer, so it is quite fun to watch.
Leon Gordon's screenplay is based on his play and the novel Hell's Playground by Ida Vera Simonton.
It is shot in black and white by Harry Stradling Sr, produced by Victor Saville, scored by Bronislau Kaper and designed by Cedric Gibbons.
Also in the cast are Clyde Cook, Leigh Whipper, Oscar Polk, Darby Jones, John Burton, Jim Davis, Ed Allen, Delos Jewkes and Martin Wilkins.
It was filmed before in GB in 1929.
© Derek Winnert 2017 Classic Movie Review 6299
Check out more reviews on http://derekwinnert.com