White Bird in a Blizzard **** (2015, Shailene Woodley, Eva Green, Christopher Meloni, Shiloh Fernandez, Thomas Jane) – Movie Review
Taking a break from Divergent, Shailene Woodley takes a bold step and is commendably safe and secure as 1988 American teen Cat Connors, whose already difficult life is thrown into chaos when her mother (Eva Green) suddenly disappears.
Adapting a mystery thriller novel by Laura Kasischke, writer-director Gregg Araki is on safe and secure ground too, on his best, most confident, commanding form.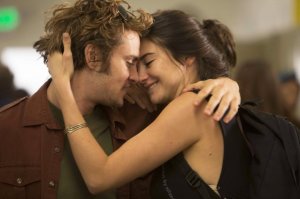 In an operatic display of crazy and Tennessee Williams-style frustration, the amazing Green acts everybody else off the screen, which is a tad unfair as Woodley is excellent and so is Christopher Meloni as her downtrodden dad. Shiloh Fernandez adds sex appeal as Woodley's thick lover, Thomas Jane adds authority as the investigating Detective Scieziesciez whom Cat gets involved with, Angela Bassett is fine as Cat's therapist, and Gabourey Sidibe and Mark Indelicato are a lot of fun as Cat's camp best buddies Beth and Mickey.
It's clever that the film seems to be all about Cat's character – it's her story – but by the end it turns out it isn't really about her at all. It's a rich and strange brew, exactly what you'd hope for from Araki. It's a film that deadly serious and very funny at the same time. How witty is that? The great 80s and 90s soundtrack is the icing on the cake.
Green, playing Woodley's mother in the film is only 12 years older than her. She'd have made a brilliant Wicked Stepmother in Cinderella.
© Derek Winnert 2015 Movie Review
Check out more reviews on http://derekwinnert.com/