Where Were You When the Lights Went Out? *** (1968, Doris Day, Terry-Thomas, Patrick O'Neal, Robert Morse, Lola Albright, Jim Backus, Steve Allen) – Classic Movie Review 6364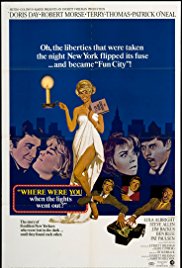 The New York power cut of 1965 – the Great Northeast Blackout – provides the backdrop for a jolly comedy vehicle for Doris Day, though director Hy Averback's 1968 movie is a little uncinematic and stagebound thanks to its ill-concealed origins as a play by Claude Magnier.
However, the exuberant performances by the on-form engaging star trio of Doris Day, Terry-Thomas and Robert Morse notch up a high tally of guffaws.
During the blackout, a New York executive Waldo Zane (Robert Morse), who is stealing a fortune from his company, crosses paths with Broadway actress Margaret Garrison (Doris Day) and her husband Pete (Patrick O'Neal). That most English of actors Terry-Thomas plays Ladislaus Walichek.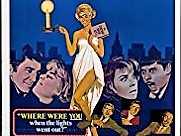 Also in the cast are Lola Albright, Jim Backus, Steve Allen, Ben Blue, Pat Paulsen, Dale Maloney, Robert Emhardt, Harry Hickox and Parley Baer.
It is written by Everett Freeman and Karl Tunberg, shot by in Panavision and Metrocolor Ellsworth Fredericks, produced by Everett Freeman and Martin Melcher, and scored by Dave Grusin.
It is Day's penultimate movie, with just With Six You Get Eggroll (1968) to follow in the same year. She was 95 on 3 April 2017.
© Derek Winnert 2017 Classic Movie Review 6364
Check out more reviews on http://derekwinnert.com