What Ever Happened to Baby Jane? ***** (1962, Bette Davis, Joan Crawford) – Classic Movie Review 339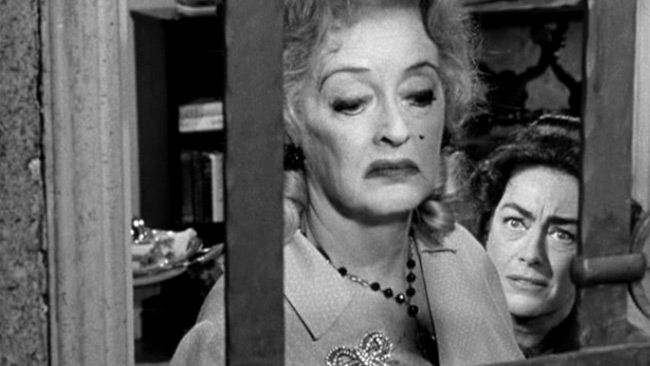 Joan Crawford: 'You wouldn't be able to do these awful things to me if I weren't still in this [wheel]chair.' Bette Davis: 'Butcha ARE, Blanche, ya ARE !'
Finally together on screen, lifetime Hollywood arch-rivals Davis and Crawford thrillingly play out their real-life divine feud to the max in this horrifically twisted tale of sibling rivalry. A brilliant black comedy chiller, it's a uniquely haunting, eerie, grotesque movie. It's stylishly directed by a sadistically inclined seeming Robert Aldrich, all too apparently relishing his coruscating misogyny.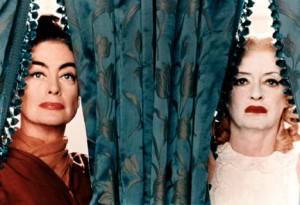 Davis, deservedly landing her 10th Oscar nomination gives a lip-smacking tour-de-force of astonishing venom and pathos. Abandoning herself to all the extremes of the character, Davis gives a performance of the utmost bravery. She should have won, of course, but Anne Bancroft did for the now scarcely remembered heart-tugger The Miracle Worker. Davis is viciously creepy as the former child star Baby Jane Hudson, who takes her pleasure from tormenting her wheelchair-bound, crippled sister Blanche, both of them locked away in the hell's waiting room of their decaying mansion.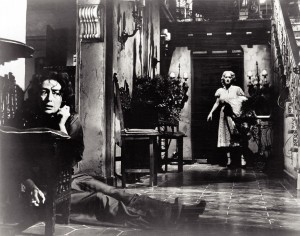 Crawford, surprisingly cast in the unlikely victim role, is touchingly pitiful, matching Davis in acting class. It's the less showy, more difficult role, and she's great. In support, the tubby and sweaty Victor Buono is outstanding as Edwin Flagg, the sinister pianist who befriends Jane.
Digitally restored for its half-centenary in 2012 and re-released in cinemas so that we can fully appreciate Ernest Haller's gleaming black and white film noir cinematography and William Glasgow's superb production designs, this is a lasting cinema gem both in terms of entertainment and psychological honesty.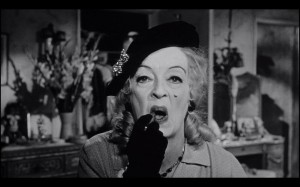 The film ultimately stands or falls by its script and its non-stop outpouring of dialogue. Lukas Heller's screenplay, adapting Henry Farrell's novel, is a true work of literature, full of devastating truths and insights about human nature. Incredibly camp and fun though the movie is, it keeps its hold as a treasured antique of great value and worth, and the sting in the story tale at the end is heart-breaking.
Most horror films work exactly the opposite way this one does and that partly explains of its power to fascinate. Other horror films seek to seem realistic on the surface but are completely artificial and full of fake feeling, while in Baby Jane everything seems artificial but runs completely realistically and truthfully.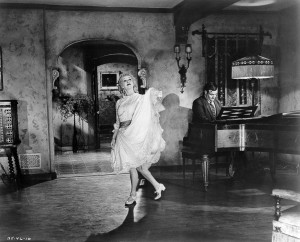 Of course, brilliant though the screenplay is, without Davis and Crawford it would be so much less valuable and entertaining, and probably forgotten now. They've etched Baby Jane and Blanche into movie history. For all the movies they did in their prime, this is probably the one both of them are best remembered for. Happy 50th birthday in 2012, ladies!
Five Oscar nominations, but alas only one win – for Norma Koch's costume designs.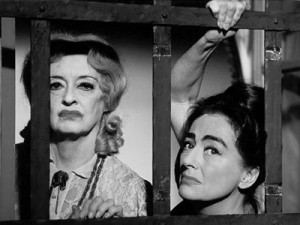 The film set off a series of similar Grand Guignol movies, including 1964's Hush, Hush Sweet Charlotte (which was supposed to reunite Davis and Crawford, till the latter baled and was replaced by Davis's friend Olivia de Havilland) and 1969's What Ever Happened to Aunt Alice? (with Ruth Gordon and Geraldine Page) and Whoever Slew Auntie Roo? (1971).
Real-life sisters Lynn and Vanessa Redgrave starred in a 1991 TV movie remake. And in 2013 it was announced that Walter Hill would direct a remake.
© Derek Winnert 2013 Classic Movie Review 339 derekwinnert.com
Link to Derek Winnert's home page for more film reviews: http://derekwinnert.com/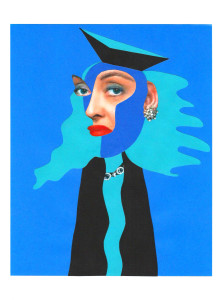 Movie Queen (Bette) by Graeme Jukes 2015.