West of Shanghai [The Warlord] *** (1937, Boris Karloff, Beverly Roberts, Ricardo Cortez, Gordon Oliver) – Classic Movie Review 5628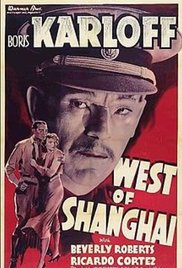 Director John Farrow's short (64 minute) 1937 war adventure drama stars Boris Karloff who gives the impression he is hugely enjoying himself cast, as of course he could not be today, as a Chinese warlord, General Wu Yen Fang. Fang's good heart, only to be revealed in the closing reel, hides beneath a nasty-seeming exterior.
This interesting, well-plotted drama, decently produced by Bryan Foy, filmed on sets left over from The Charge of the Light Brigade (1936) and on the Warner Ranch, Calabasas, California, is written by Crane Wilbur and based on a now creaky-seeming old play, The Bad Man by Porter Emerson Browne. However, the performances of Karloff and Ricardo Cortez as his prisoner Gordon Creed give it a real boost.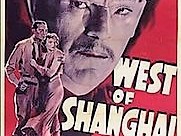 Gordon Creed has arrived in a remote Chinese outpost to obtain rights to a rich oil reserve owned by wildcatter Jim Hallet (Gordon Oliver). Creed's estranged wife Jane (Beverly Roberts), who is a missionary there, is in love with Hallet. Fang takes over the outpost and holds its group of oilmen and missionaries hostage, and Creed tries to play his wife off against Fang to cheat Hallet out of the oil and escape.
It also features Vladimir Sokoloff, Sheila Bromley, Richard Loo, Gordon Hart, Douglas Wood, Chester Gan and Luke Chan.
L William O'Connell shoots in black and white.
Karloff went on to play Chinese detective Mr Wong in Mr Wong, Detective (1938) and the ensuing series.
© Derek Winnert 2017 Classic Movie Review 5628
Check out more reviews on http://derekwinnert.com