We're the Millers **** ( 2013, Jason Sudeikis, Jennifer Aniston, Emma Roberts, Will Poulter, Ed Helms, Luis Guzman, Nick Offerman, Kathryn Hahn, Molly Quinn) – Movie Review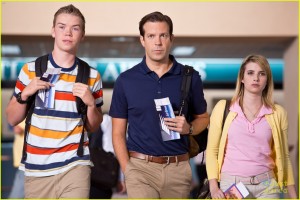 To get himself out of a shedload of trouble, pot dealer Jason Sudeikis agrees to crook Ed Helms's demands that he ship a smidge of weed back from Mexico over the border to the US. How's he going to get it through customs?
Easy! Form a pretend family with two folks in his block, exotic dancer/ stripper Jennifer Aniston and nerdy but nice virginal kid Will Poulter (Eustace Scrubb in Narnia), plus random sulky punk runaway girl Emma Roberts.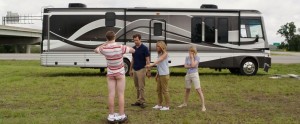 The two women agree to it just for the money; the boy just because he's along for the ride. The ill-assorted bunch hire an RV, and set off in a bad mood which gets worse when they find the lair of the Mexican banditos and the smidge of weed turns into an incredibly huge cargo of it. And much worse when they run into a corrupt gay Mexican cop (Luis Guzman), who wants money or a **** job.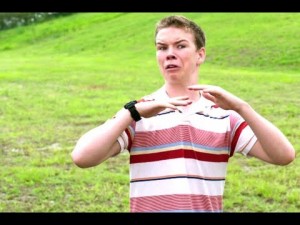 And much, much worse when they are befriended by an awful family in another RV (Nick Offerman, Kathryn Hahn, Molly Quinn), the dad of whom turns out to be an inept DEA agent. And much, much worse still when bad guy Pablo Chacon (Tomer Sisley) and his evil henchman One-Eye (Matthew Willig) come after them.
And so on…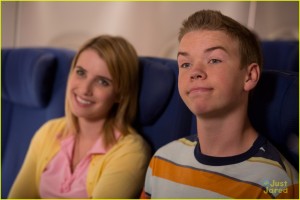 The amiable cast bring out all the available laughs in Bob Fisher and Steve Faber's screenplay. You may wish there were just a few more laughs, but there are quite a lot anyway. This action comedy's really very old fashioned, but it's polished off with a veneer of gross-out smut to make it seem 'fresh' and 'modern'.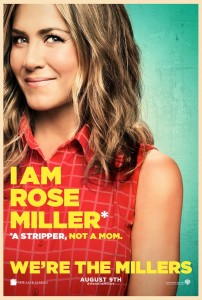 The smut turns out to be the worst of the script, especially the stuff with the gay cop, the giant spider biting the boy's testicle and the other couple coming onto Sudeikis and Aniston. All this is just ridiculous, not at all funny for those who like their comedy witty, truthful or clever.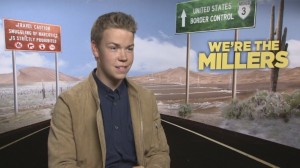 But this movie is just silly, escapist nonsense in the style of Sandra Bullock's The Heat. Those who liked that with like this too and be well satisfied, I'm guessing, though it probably won't do such brilliant business as that has. It doesn't aim quite as hard or as low.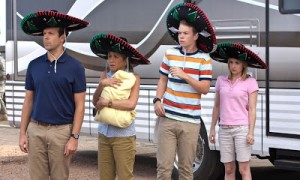 Second-billed Sudeikis turns out to be the main star. He's fine, entirely amusing enough, but not the world's most hilarious comedian. He gets by, fortunately, by not pushing too hard. There's just a smidge of charm there somewhere. Not ideally cast, Aniston seems a bit subdued.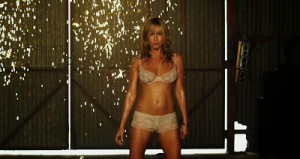 Good actress though she is, she's absolutely hopeless trying to convince you she's a stripper. And she demeans herself stripping in an ultra-soft porn sequence in the movie. Keep 'em on, Jen!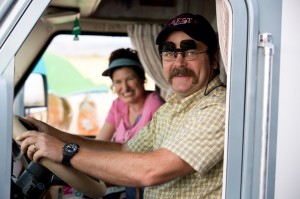 Poulter's surprisingly funny and winning. This role's a bit of a breakthrough for him. It should prove a big career booster. Roberts is just fine, nothing exceptional but fine. But the normally very amusing Offerman is struggling in an over-written role and Hahn is much worse as the wife. Helms of course manages to be as unfunny as he is in the Hangover films.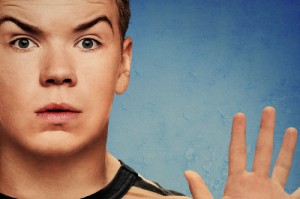 There it is. I don't think it's everybody's cup of tea, but you'd have to be very churlish indeed not to enjoy this good-natured piece of fluff at all and find some easy-going laughs. You might even like the gay cop and the swollen testicles. But, then again, maybe not.
© Derek Winnert 2013 derekwinnert.com