Weird Woman *** (1944, Lon Chaney Jr, Evelyn Ankers, Anne Gwynne, Ralph Morgan, Elizabeth Risdon, Lois Collier, Kay Harding, Elizabeth Russell) – Classic Movie Review 3767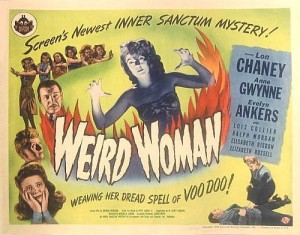 Director Reginald Le Borg''s 1944 mystery thriller is the second Inner Sanctum series entry starring Lon Chaney Jr, this time as Professor Norman Reed, plus the welcome addition of five horror queens: Evelyn Ankers, Anne Gwynne, Lois Collier, Kay Harding [Jackie Lou Harding] and Elizabeth Russell.

Voodoo-style dirty deeds and deaths appear to follow professor Chaney Jr's lovely exotic native bride Paula (Anne Gwynne), whom he has brought back from a Pacific South Seas island. It turns out she was raised by superstitious natives who believe she's a supernatural being. But is she really to blame for the dirty deeds and deaths?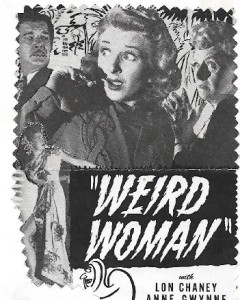 This oddball Inner Sanctum radio series horror (based on Fritz Leiber Jr's novel Conjure Wife) offers only the tamest of thrills or chills, though it is still quite atmospheric, spooky and suspenseful. And it stays amusing and good campy fun thanks to the weird script plus the entertaining turns from Chaney Jr, Gwynne and villainess Evelyn Ankers, as Prof Reed's vengeful old flame.
Real life best friends Ankers and Gwynne constantly broke into laughter during filming because the script made Ankers very mean to Gwynne.
It was remade in Britain as Night of the Eagle (Burn, Witch, Burn!) in 1962.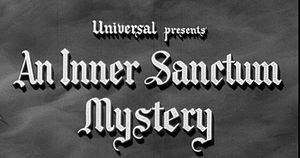 The series of six Inner Sanctum low-budget Universal movies starring Lon Chaney Jr and based on the popular radio show that aired from January 7 1941 to October 5 1952 are: Calling Dr Death (1943), Weird Woman (1944), Dead Man's Eyes (1944), The Frozen Ghost (1945), Strange Confession (1945) and Pillow of Death (1945).
Inner Sanctum was created by producer Himan Brown and 526 episodes were broadcast.
© Derek Winnert 2016 Classic Movie Review 3767
Check out more reviews on http://derekwinnert.com