Warlock: The Armageddon **½ (1993, Julian Sands, Chris Young, Paula Marshall, Joanna Pacula, R G Armstrong, Nicole Mercurio, Zach Galligan) – Classic Movie Review 4413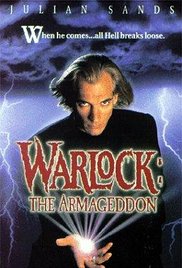 Director Anthony Hickox's 1993 sequel to the exciting 1989 chiller Warlock is welcome, reasonably entertaining and fairly competently handled. Julian Sands returns as the Warlock, Satan's son reborn to an understandably reluctant New York yuppie mother.
The Warlock is on a six-day mission to find the five runes that will join up and welcome the Devil up on Earth. So a young couple (Chris Young, Paula Marshall) must be killed and they return to their Druid warrior past and battle Warlock Sands. Though done on an obviously low budget, Bob Keen's pre-CGI special effects are an asset, particularly at the spectacular climax.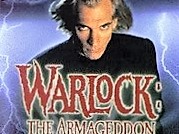 With the pacing, plotline and dialogue a little dodgy, it is not great, but it is acceptable and a reasonably worthy successor to the excellent original. It is a pity that Kevin Rock's screenplay (based on the original characters created by David T Twohy) and some of the acting are not a bit better. But Sands's authoritative presence, the decent premise, Hickox's frantic direction and a wry sense of humour combine to help to keep it on the rails. It is a shame that there is no sign of original co-star Richard E Grant, this time, though.
Also in the cast are Joanna Pacula, R G Armstrong, Steve Kahan, Charles Hallahan, Nicole Mercurio, Craig Hurley, Bruce Glover and Zach Galligan.
Warlock achieved trilogy status when a second sequel, Warlock III: The End of Innocence, starring Bruce Payne and Ashley Laurence, appeared in 1999, directed by Eric Freiser.
© Derek Winnert 2016 Classic Movie Review 4413
Check out more reviews on http://derekwinnert.com