War Dogs **** (2016, Jonah Hill, Miles Teller, Steve Lantz, Bradley Cooper, Ana de Armas, Kevin Pollak) – Movie Review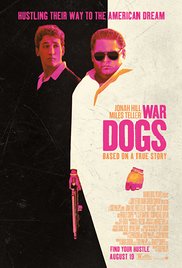 Jonah Hill is great in his best The Wolf of Wall Street mode as real-life buccaneering wheeler and dealer Efraim Diveroli, who started up in the shady arms dealing business with his friend David Packouz (Miles Teller), and won a $300 million contract from the Pentagon to arm America's allies in Afghanistan.
A couple of dodgy geezers in their 20s, but what they did was hardly even illegal, exploiting a government initiative allowing small businesses to bid on US military contracts, though admittedly that led them on a long and winding road to their eventual downfall.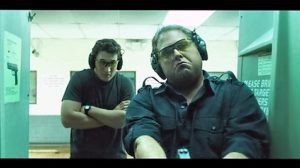 Co-written and directed by Todd Phillips (The Hangover), it turns out not to be a comedy at all, but a laughs-tinged all-American tragedy, and all round serious movie, much more of a boisterous black comedy crime drama than the raucous farce you expect.
True stories often make for messy, untidy movies, but this one is very neat and vibrant, briskly and energetically paced by Phillips, on dynamic form. Teller is effective but way overshadowed by the on-fire Hill, who, amazingly, makes his monster of a character actually likeable, a modern-day American pirate.
The duo are the Abbott and Costello of the arms trade, that is if you think that Costello is funny. War Dogs comes complete with an extended star cameo from The Hangover's Bradley Cooper, giving his usual amusingly smarmy performance as the sinister Henry Girard. Ana de Armas draws the short straw in a poorly sketched role as Packouz's wife Iz, who is constantly lied and cheated to by her husband. Kevin Pollak plays Ralph Slutzky.
The screenplay by Stephen Chin, Jason Smilovic and Phillips is based on Guy Lawson's Rolling Stone article Arms and the Dudes.
Jason Smilovic is the writer of Lucky Number Slevin (2006).
This hugely underrated film cost $40 million and recouped a moderate $43 million in the US.
© Derek Winnert 2016 Movie Review
Check out more reviews on http://derekwinnert.com