Wallace & Gromit: The Curse of the Were-Rabbit **** (2005, voices Peter Sallis, Helena Bonham Carter, Ralph Fiennes, Peter Kay, Nicholas Smith, Mark Gatiss, Geraldine McEwan) – Classic Movie Review 4332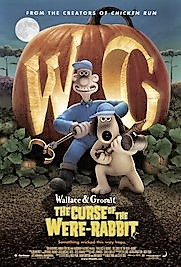 Hooray! Wallace (voice of Peter Sallis) and his loyal, clever dog Gromit are back – this time on the big screen for their first feature length adventure, in which they are soft-hearted pest controllers, protecting their town's vegetable patches.
They hatch a plot to brainwash the rabbit population into hating veggies, but it goes wrong and, with full moon rising, Wallace becomes a giant were-rabbit. So Lord Victor (Ralph Fiennes) sets out to shoot him with a  bullet – 24 carrot of course.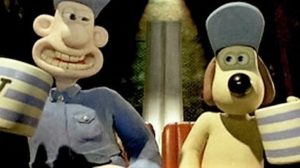 Perhaps slightly straining to fill its 85 minutes, writer-directors Nick Park and Steve Box's stylish and enchanting Aardman animation still boasts an acre of charm and laughs, with lots and lots for kids to enjoy, and plenty of jokes, wit and movie references to appeal to adults.
Helena Bonham Carter provides the voice of Lady Campanula Tottington, Peter Kay voices PC Mackintosh, Nicholas Smith (1934–2015) voices the Reverend Clement Hedges, Mark Gatiss voices Miss Blight, Liz Smith (1921–2016) voices Mrs Mulch and Geraldine McEwan (1932–2015) voices Miss Thripp.
Park and Box won the 2006 Oscar for Best Animated Feature Film of the Year and it won the 2006 Bafta Award for Best British Film, as well as the Bafta Children's Award for Best Feature Film.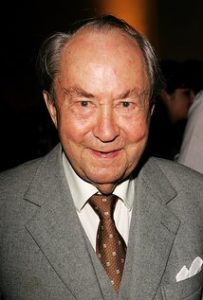 Peter Sallis acted by chance in The Curse of the Werewolf, as Don Enrique, all those years ago in 1961. He is the only actor to appear in all 295 episodes of TV's Last of the Summer Wine. He also voiced Wallace in the Oscar-winning short The Wrong Trousers (1993).
He celebrated his 95th birthday on February 1 2016 and died on 2 aged 96, at the actors' retirement home Denville Hall in north London.
© Derek Winnert 2016 Classic Movie Review 4332
Check out more reviews on http://derekwinnert.com