Walk the Line **** (2005, Joaquin Phoenix, Reese Witherspoon, Ginnifer Goodwin) – Classic Movie Review 712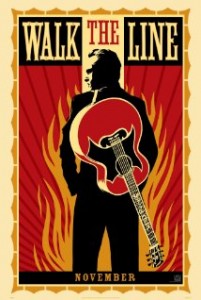 Following the trail blazed by Ray (2004), director James Mangold's entertaining, informative and involving 2005 biopic of troubled country music legend Johnny Cash boasts an ace impersonation and a great performance by Oscar-nominated Best Actor Joaquin Phoenix. It's all the more amazing since he does his own singing.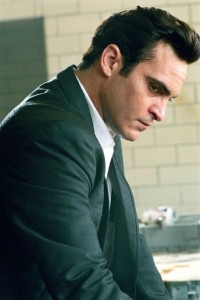 But it was Reese Witherspoon, also performing all her own songs, who won the Oscar as Best Actress for her showstopping performance as Cash's second wife, June Carter.
Duets between the two stars – who also learned to play guitar and autoharp – on Jackson and I Got You Babe are exhilarating. In any case the movie is a duet double act between the two stars, and it was unfair that Phoenix didn't win too. Witherspoon wouldn't have been this good without his brilliant turn to play opposite. Phoenix did win the Golden Globe for Best Actor in a Musical or Comedy. After three nominations, by 2014 he's still Oscarless.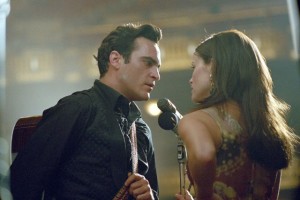 James Mangold's and Gill Dennis's screenplay is based on Johnny Cash's book Man in Black, as well as Cash: The Autobiography. Perhaps spurred by the Oscars, it was an enormous success, taking $130million in the US.
Mangold directed 3:10 to Yuma (2007), The Wolverine, Cop Land, Girl, Interrupted and Knight and Day.
© Derek Winnert 2014 Classic Film Review 712 derekwinnert.com