Voyage to the Planet of Prehistoric Women * (1968, Mamie Van Doren, Mary Marr, Paige Lee) – Classic Movie Review 4859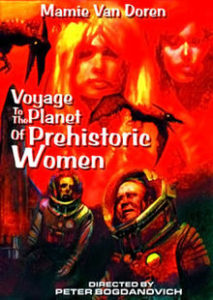 Following Voyage to the Prehistoric Planet (1965), the ever enterprising producer Roger Corman squeezed a second sci-fi movie out of cannibalising the 1962 Soviet film Planeta Bur Planet of the Storms), which was scripted by Aleksandr Kazantsev from his novel and directed by Pavel Klushantsev.
Peter Bogdanovich made the adaptation but decided not to have his name credited on the film, with his American-made principal scenes starring Mamie Van Doren as Moana. He said he did not claim credit because 'such a small piece of it is mine'. He is credited as Derek Thomas. Also in the cast are Mary Marr as Verba, Paige Lee as Twyla, Gennadi Vernov as Astronaut Andre Freneau, Margot Hartman as Mayaway, Irene Orton as Meriama, Pam Helton as Wearie and Frankie Smith as Woman of Venus.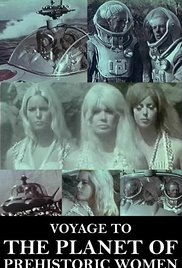 In the plot, astronauts landing on Venus kill a pterodactyl creature worshiped by the local women, who try but fail to kill the astronauts by their superhuman powers. The astronauts escape the planet, and their robot, damaged by a volcanic fire, becomes the women's new god!
It had a limited American International Pictures (AIP) US cinema release but is best known on cable TV and video. the DVD cover credits
Bogdanovich recalls Corman came to him and said: '"Would you shoot some footage with some women? AIP won't buy it unless we stick some women in it." So I figured out a way to work some women in it and shot for five days, and we cut it in. I narrated it, because nobody could make heads or tails of it. Roger wouldn't let me add any sound. I really only directed 10 minutes of it.
He hired Mamie Van Doren and several other blondes to play Venusians 'because I thought everyone should be blonde on Venus. I dressed them up in rubber suits, bottoms only and put shells over their breasts. I had them traipsing around Leo Carillo Beach shooting inserts that might relate to Venus.' He gave the girl characters South Sea movie names because 'it seemed right'.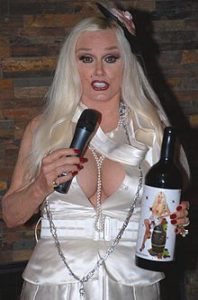 Mamie Van Doren (born Joan Lucille Olander on 6 February 1931) is perhaps best remembered for the rock 'n' roll, juvenile delinquency, exploitation movie Untamed Youth (1957). Here she is at at the launch of her wine brand in 2007.
© Derek Winnert 2017 Classic Movie Review 4859
Check out more reviews on http://derekwinnert.com