Von Richtofen and Brown [The Red Baron] **** (1971, John Phillip Law, Don Stroud, Barry Primus) – Classic Movie Review 3897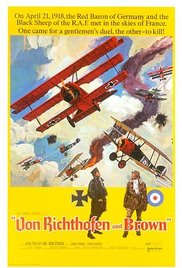 Director Roger Corman's highly entertaining 1971 comic-strip-style period action adventure tale of World War One dogfights stars John Phillip Law as the German air ace Manfred von Richtofen (aka the Red Baron) and Don Stroud as Canadian pilot Roy Brown.
The aerial sequences are thrilling and Corman directs the movie with great energy and his tongue placed in cheek comfortably, using the eager-to-please actors like cartoon characters, even though the characters are based on real people.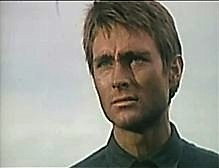 It is fresh and exciting and all really very likeable and appealing, with a strong, anti-war screenplay by John William Corrington and Joyce Hooper Corrington. Though real names are used, their story is largely fictional.
Also in the cast are Barry Primus as Hermann Goering, Peter Masterson as Major Oswald Boelke, Karen Huston [Ericson] as Ilse, Corin Redgrave as Major Lanoe Hawker VC, Hurd Hatfield as Anthony Fokker, Clint Kimbrough as Major von Höppner, Ferdy Mayne as Richthofen's father, Tom Adams as Owen and Robert La Tourneaux as Ernest Udet.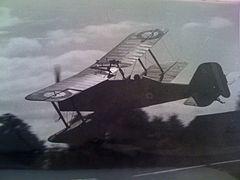 Perhaps because of the lack of big-star names it was a surprise flop at the box-office, though it had a low budget of less than $1 million. Corman took its failure to heart and thereafter concentrated on producing, until his one-shot comeback in 1990, Frankenstein Unbound.
Corman made use of ex-RCAF pilot Lynn Garrison's Irish aviation facility, complete with replica World War One aircraft. Garrison taught Law the basics of flying to take off and land, making the footage more realistic. Interiors were shot at Powerscourt House stately home in County Wicklow, Ireland.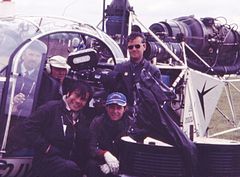 Charles Boddington, who worked on The Blue Max and Darling Lili, was killed on 15 September 1970 when his S.E.5 spun in a low-level manoeuvre over the airfield. The next day, on the last flight of the shooting schedule, Garrison and Stroud were involved in a crash and had to be rescued from the River Liffey.
© Derek Winnert 2016 Classic Movie Review 3897
Check out more reviews on: derekwinnert.com