Vendetta *** (1950, Faith Domergue, George Dolenz, Donald Buka, Hillary Brooke, Nigel Bruce, Joseph Calleia, Hugo Haas) –  Classic Movie Review 6013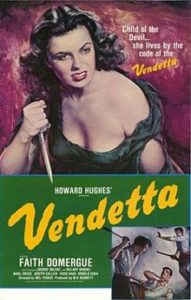 Steamy Faith Domergue stars as the femme fatale from Corsica, Colomba della Rabia, who sets out to avenge herself on the family's murderous opponents who killed her father. In her avowed murderous task, she is helped out by her brother Lieutenant Orso Antonio della Rabia (George Dolenz), whom she pushes to kill.
The result is director Mel Ferrer's perilously swirling 1950 costume melodrama, with an unsteady central performance by Domergue and even unsteadier work on the script and direction, perhaps because there were so many different hands and visions at work on the movie. Nevertheless, some of the film's extravagances are attractive, though, and this is quite the little curio.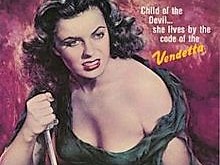 It also stars Donald Buka as Padrino the Bandit, Joseph Calleia as Mayor Guido Barracini, Robert Warwick as the French Prefect, Hugo Haas as bandit Brando, Hillary Brooke as Lydia Nevil and Nigel Bruce as Sir Thomas Nevil.
Also in the cast are José Alvarado, Richard Flato, John Mylong, Russ Vincent, and Gisela Werbisek.
Producer Howard Hughes designed the movie as a shop window for his protégé Domergue, with principal photography beginning back in 1946. Max Ophüls was the original director until Hughes replaced him with his producing partner and original screen-writer/adapter Preston Sturges until he fell out with Hughes, who then brought in Stuart Heisler to complete the film. Hughes, who also worked on the direction of some scenes, then decided to make more changes and brought in Ferrer, the film's sole credited director.
Based on the 1840 novella Colomba by Prosper Mérimée, the screenplay is solely credited to W R Burnett, but several other writers worked on it, including Peter O'Crotty and Preston Sturges, who originated the film on Hughes's request.
Probably needless to say, after all the dithering and years of work and wasted money, the film was a critical and box office flop.
It is shot in black and white by Franz Planer and Alfred Gilks, scored by Constantin Bakaleinikoff and Roy Webb, and designed by Robert Usher.
Dolenz was the father of singer Micky Dolenz of The Monkees.
A poster for the movie appears and Chandler and Joey's apartment in Friends.
Domergue's best film is probably Where Danger Lives (1950) with Robert Mitchum and Claude Rains.
© Derek Winnert 2017 Classic Movie Review 6013
Check out more reviews on http://derekwinnert.com