V for Vendetta **** (2005, Hugo Weaving, Natalie Portman, Rupert Graves, John Hurt, Tim Pigott-Smith, Stephen Rea, Stephen Fry) – Classic Movie Review 254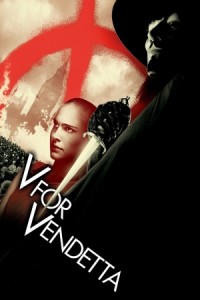 'A revolution without dancing is a revolution not worth having!'
Hugo Weaving gets star billing, hidden behind his disguise as a Guy Fawkes-style masked avenger called 'V'. Escaping from prison and seeking vengeance on those responsible for his false incarceration in Count of Monte Cristo-style, V rescues a shaven-headed girl called Evey Hammond (Natalie Portman) from the secret police who guarding a grim future-world England.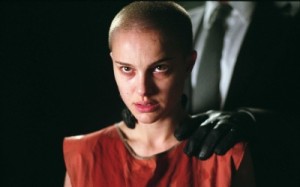 As V employs guerrilla tactics to battle the totalitarian state, Evey (who has a scar on her forehead like a sideways V) becomes his ally in his spree of killing and destroying as a freedom fighter.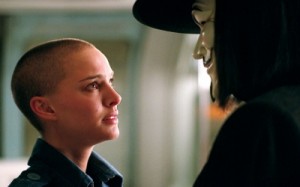 Accessing George Orwell's novel 1984, and borrowing ideas left, right and centre, this fearless movie is incredibly busy, powerful, hyper-stylish and enjoyable. Oh, and subversive. It's unafraid to boldly go into tricksy, smarty-pants overload, casting into the heady brew plodding policemen, John Hurt's ranting Big Brother character Adam Sutler, gays and lesbians, quotes from Shakespeare, pervy bishops, the London Tube and an attack on the Houses of Parliament.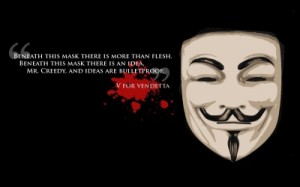 Effectively basing his accent on 60s and 70s British Prime Minister Harold Wilson, Weaving (who replaced originally cast James Purefoy, who quit four weeks into filming) has got a compelling, hypnotic voice, creating a commanding, memorable character.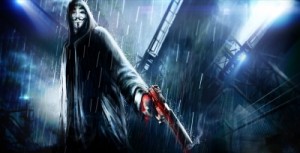 However, you never quite really believe it's actually Weaving behind the Guy Fawkes mask on screen. And, quite apparently, it's not always him. Some scenes still feature Purefoy behind the mask, dubbed by Weaving. In fact all the dialogue had to be dubbed by Weaving after a small mike inside his mask and later one in his hair didn't work satisfactorily.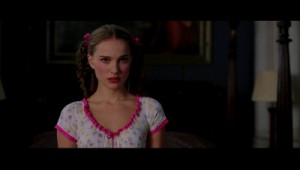 And the gorgeous Portman holds the screen even if she's petite for an action heroine and seriously handicapped by the slaphead look, though she enjoyed shaving her head bald. Dialogue coach Barbara Berkery (who has also coached Gwyneth Paltrow) helped her perfect an English accent. It proves a fine role for Portman, who beat off competition from local girl Keira Knightley.
There are also useful roles for British worthies like Tim Pigott-Smith as Mr Creedy, Stephen Rea as Finch, Roger Allam as Lewis Prothero, Sinéad Cusack as Delia Surridge, Ben Miles as Dascomb and Stephen Fry as Dietrich.
Andy and Lana Wachowski's intriguing, action-packed, thought-provoking screenplay is based on a graphic novel series by Alan Moore (From Hell, The League of Extraordinary Gentlemen). Apparently unimpressed by the ways of Hollywood, Moore renounced payment and credit, so only his colleague, illustrator David Lloyd, is credited as visual artist.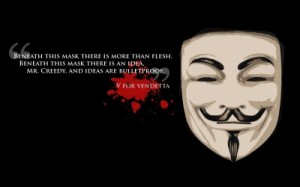 The Wachowskis started writing their script back in the 90s before working on The Matrix. Though sometimes too talky and running on convoluted, often-fantastic plotlines, it's overflowing with ideas, imagination and images. In the originals, V battled for anarchy not freedom as here, a very significant change.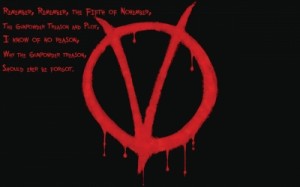 Despite that, and the jittery, nervy direction by James McTeigue, first assistant director on Star Wars Episode II: attack of the Clones and The Matrix Reloaded and The Matrix Revolutions, the movie is unstoppable as an onslaught of attention-grabbing visuals by cinematographer Adrian Biddle, grisly action and subversive ideas. It is Biddle's last film, dedicated to him. He died in 2005 of a heart attack, aged only 53. He was Oscar nominated for Thelma & Louise.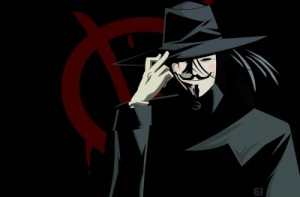 Owen Paterson's production designs, art direction by Kevin Phipps, Sammy Shedlon's costume designs and Dario Marianelli's score are high points. Sound and vision are very striking in the movie, as they have to be in an effective graphic novel adaptation.
The film is a symbol for rebellion worldwide now. Protesters battle for freedom everywhere wearing the Guy Fawkes mask.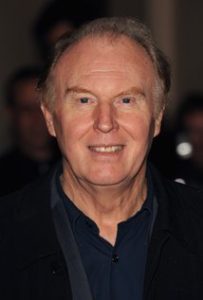 RIP Tim Pigott-Smith (1946-2017), who stars as Mr Creedy in V for Vendetta.
© Derek Winnert 2013 Classic Movie Review 254
Check out more reviews on http://derekwinnert.com