Up in the Air **** (2009, George Clooney, Vera Farmiga, Anna Kendrick, Jason Bateman, Amy Morton, Melanie Lynskey, J.K. Simmons, Sam Elliott, Danny McBride) – Classic Movie Review 4421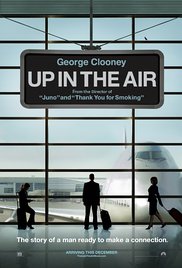 Golden Globe nominee (and New York Film Critics Best Actor) George Clooney gives his most relaxed, delightful, appealing and, yes, simply best performance so far as Ryan Bingham, a man who gets his kicks as well as his income flying the United States and sacking folk for a living.
On the side, he makes a second income through top-profile lectures about travelling your left better by dumping all personal baggage, just like he does at airports.
But then Bingham meets his match in (1) Anna Kendrick, a pinched, ambitious recent graduate who thinks people can be sacked over the videocam, and (2) lovely high-flying older woman Vera Farmiga, who he thinks could be his soul mate as well as his sex buddy.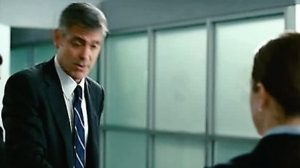 A little bit offbeat but totally mainstream, co-writer/ director Jason Reitman's adorable 2009 romcom, based on Walter Kirn's novel, is an amazingly good movie – witty, funny, intelligent and supremely entertaining. Farmiga has never been anything like as superb in anything else and Kendrick (hardly noticed as Jessica in the Twilight saga) is a revelation.
Clooney turns his usual ultimate smoothie, Mr Total Cool act into something astonishingly touching. He looks and acts like a man who'd love 'em and leave 'em, but he does have a heart, after all – and a great, big, vulnerable one.
Jason Bateman, Amy Morton, Melanie Lynskey, J.K. Simmons, Sam Elliott, Danny McBride, Zach Galifianakis, Chris Lowell and Steve Eastin are also in the cast.
It was nominated for six Oscars and six Golden Globes but only won the Golden Globe for Best Screenplay – Motion Picture (Jason Reitman and Sheldon Turner) as well as the Bafta for Best Screenplay – Adapted.
© Derek Winnert 2016 Classic Movie Review 4421
Check out more reviews on http://derekwinnert.com