Up For Love [Un homme à la hauteur] **** (2016, Jean Dujardin, Virginie Efira, Cédric Kahn, Stéphanie Papanian, César Domboy) – Movie Review
A man called Alexandre finds a woman called Diane's mobile phone in a restaurant, calls her up, charms her on the phone and invites her out for dinner. Rowing with her ex-lover Bruno, her law firm partner, Diane decides to take the plunge and meet her phone man. She's got a huge surprise in store and immediately there's a small problem in their budding relationship.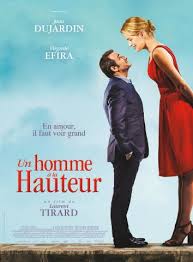 Director Laurent Tirard's 2016 French romantic comedy is deliciously sweet, charming, and funny – really quite adorable! In expert, appealing, performances, the two stars Jean Dujardin and Virginie Efira are definitely up for it.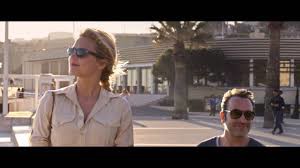 It goes the difficult romcom route of trying to be honest, true and sincere, and pulls it off gracefully. It deals with the serious subject of prejudice prompted by physical appearances in a lighthearted but telling way. The trick work the film's plot requires is of the highest possible standard, quite seamless and amazing.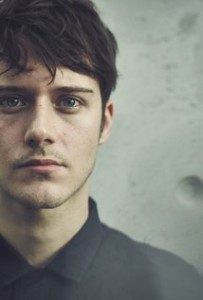 César Domboy is charmingly natural as Alexandre's loving son Benji, but Stéphanie Papanian gives the film's least truthful and naturalistic performance as Coralie, the office assistant of Diane and Bruno. Edmonde Franchi is funny as Monique, their housekeeper, while Manoëlle Gaillard and Bruno Gomila are effective as Diane's parents, whom Alexandre insists on going to visit, though Gaillard is a bit of a comedy turn.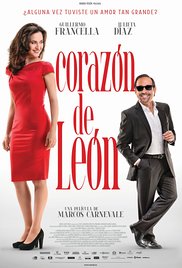 It is a quick remake of the 2013 Argentina film Corazón de león, and based on Marcos Carnevale's original screenplay for that movie. Surely another remake must be on the cards soon, in the UK with Hugh Grant and Kristin Scott Thomas maybe.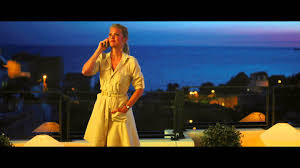 The 5′ 11¾" Dujardin is one of only five French actors to win an Academy Award after Claudette Colbert for It Happened One Night (1934), Simone Signoret for Room at the Top (1959), Juliette Binoche for The English Patient (1996) and Marion Cotillard for La Vie en Rose (2007).
© Derek Winnert 2016 Movie Review
Check out more reviews on http://derekwinnert.com