Unstoppable **** (2010, Denzel Washington, Chris Pine, Rosario Dawson, Ethan Suplee, Kevin Dunn, T J Miller) – Classic Movie Review 4006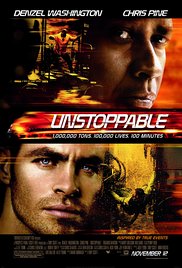 All aboard for a fantastic, non-stop thrill ride as rail workers Frank and Will (Denzel Washington and Chris Pine) set off in a separate train to chase an unmanned, half-mile-long freight locomotive carrying a cargo of toxic chemicals and poisonous gas. Quiet, unassuming heroes, they are desperate to try to stop the runaway train before it derails on a curve and causes a spill that would wipe out an American town.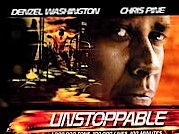 Based on a real incident in 2001, this runaway train story could just be a TV movie. But the huge-scale production, nail-biting stunts and awesome action, Tony Scott's heart-pounding direction and the two scalding star turns elevate it to first-class travel. Once the movie starts, there is just no let-up till it burns screaming and kicking into its destination. There is an excellent screenplay by Mark Bomback too.
Rosario Dawson has a good role as Connie, the woman at the control booth. Ethan Suplee (from TV's My Name Is Earl) has a less relishable part as Dewey, the idiot engineer who leaves the train unmanned and sets off the runaway.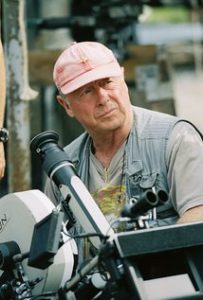 Tragically, it proved Scott's final film in the director's chair before his suicide on 19 August 2012 at the age of 68. Scott worked with Washington five times – on Crimson Tide (1995), Man on Fire (2004), Deja Vu (2006), The Taking of Pelham 1 2 3 (2009), and Unstoppable (2010).
© Derek Winnert 2016 Classic Movie Review 4006
Check out more reviews on http://derekwinnert.com