Unleashed [Danny the Dog] **** (2005, Jet Li, Bob Hoskins, Morgan Freeman) – Classic Movie Review 5501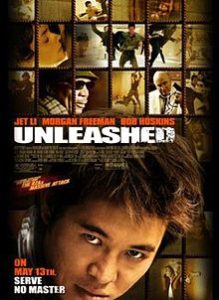 Director Louis Leterrier's 2005 British-French martial arts action thriller is really weird and uncomfortable but it remains a top action film and, arguably, Jet Li's best English language movie. It is as tough as it is quirky, and provides a good, gritty showcase for Li, with satisfying, exciting martial arts fighting action.
It is written by Luc Besson, and somehow very typical of his work, offbeat, violent and sentimental. It stars a most interesting trio of people you never thought you would see in a movie together – Jet Li, Bob Hoskins, Morgan Freeman, all three gainfully employed well within their usual comfort zone. It is produced by Besson, Li and Steven Chasman.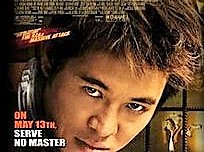 Hoskins gets one of his most unusual roles as vicious loan shark Bart, who persuades men to pay him back with the help of violently skilled fighter Danny the Dog (Jet Li), who takes down his targets when Bart removes his metal collar. Creepily, Danny has been enslaved by the mob since childhood, treated by them as a dog and raised by them as a fighting machine.
Freeman plays Sam, the kind blind pianist Danny meets. Later Bart realizes he can swap the loan shark business for earning big prize money by entering Danny as a fighter in underground fighting death matches.
That is one heck of a weird plot, and Besson makes it work. Its unique status as a story gives the film more appeal. No disrespect to Glasgow, but one of the weird things about the movie is that it is set and shot there. Li has no trouble at all with the action, making light work of it,  but is clumsier in the emotional scenes. Hoskins and Freeman are their usual reliable good value.
Also in the cast are Kerry Condon as Sam's stepdaughter Victoria, Vincent Regan as Raffles, Dylan Brown as Lefty, Tamer Hassan as Georgie and Michael Jenn as Wyeth.
It cost plenty at $45 million, but earned back a respectable $50.9 million at worldwide cinemas, grossing a better than predicted $24.5 million in North America, so it probably was a financial success.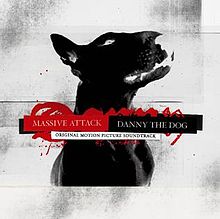 The soundtrack is by Massive Attack, originally released as Danny the Dog, the film's alternate title. Besson also throws in Mozart's Piano Sonata No 11 Andante Grazioso in several scenes.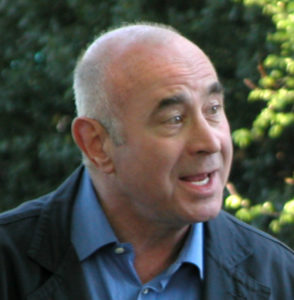 RIP Bob Hoskins (26 October 1942 – 29 April 2014).
© Derek Winnert 2017 Classic Movie Review 5501
Check out more reviews on http://derekwinnert.com