Unfaithfully Yours **** (1948, Rex Harrison, Linda Darnell, Barbara Lawrence, Rudy Vallee, Kurt Kreuger, Lionel Stander, Edgar Kennedy, Alan Bridge) – Classic Movie Review 4966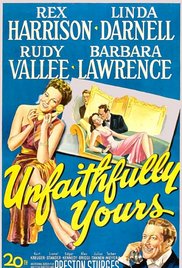 Writer-director Preston Sturges's 1948 screwball marital black comedy is the witty, and often hilarious story of hot-headed British symphony conductor Sir Alfred De Carter (Rex Harrison), who imagines three ways to deal with his supposedly unfaithful young wife Daphne (Linda Darnell).
Sir Alfred thinks that Daphne is enjoying an illicit fling with his male secretary Tony Windborn (Kurt Kreuger), while waving he is his baton to a symphony concert of Rossini (murder), Tchaikovsky (Russian roulette) and Wagner (surrender), imagining different scenarios for dealing with his wife's infidelity.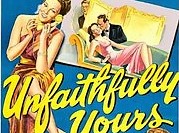 There are very excellent star performances, but there is also tremendous support from Rudy Vallee (as August Henshler, the brother-in-law who tells Harrison that Darnell is conducting an affair while he is conducting), Barbara Lawrence as as Barbara Henshler, Lionel Stander as as Hugo Standoff, Edgar Kennedy as Detective Sweeney and Alan Bridge as as House Detective. But it is really Sturges's cutting dialogue and nimble, expert comedy handling that count most.
Also in the cast are Julius Tannen, Torben Meyer, Robert Greig, Evelyn Beresford, Georgia Caine, Harry Seymour, Isabel Jewell, Marion Marshall, George Beranger, Harry Carter, Billy Cartledge, Ruth Clifford, Douglas Gerrard, Sam Harris, Laurette Luez, J Farrell MacDonold, George Matthews, George Melford, Frank Mills, Frank Moran, Dave Morris, Charles Tannen and Max Wagner.
Despite good reviews, the film, with its bungling murderer and unsympathetic characters, met with lukewarm box office, which effectively ended Sturges's career. It was just too dark and too smart and sophisticated for post-war Forties audiences, but now it is an admired classic.
It is remade as Unfaithfully Yours by director Howard Zieff in 1984, with Dudley Moore, Nastassja Kinski, Armand Assante and Albert Brooks.
© Derek Winnert 2017 Classic Movie Review 4966
Check out more reviews on http://derekwinnert.com