Underworld **** (2003, Kate Beckinsale, Scott Speedman, Bill Nighy, Shane Brolly) – Classic Movie Review 1069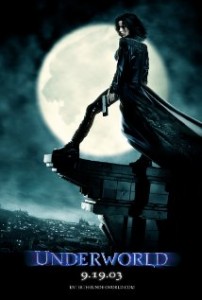 Director Len Wiseman's exciting, visually stylish 2003 gothic action horror movie, made in Budapest, Hungary, stars Kate Beckinsale as the icily toothsome heroine Selene, a vampire warrior belonging to the Death Dealers, a group specialising in assassinating Lycans (lycanthropes).
Selene finds herself battling the big bad werewolf Lucian (Michael Sheen), the leader of the Lycans, and the prince of darkness Viktor (Bill Nighy), the most powerful of the vampire elders, to save hunky human Michael Corvin (Scott Speedman), a medical student whose blood could unite humans and werewolves, and who becomes a hybrid.
It also stars Shane Brolly as Kraven, a vampire noble who plots to kill the elders, Sophia Myles as Erika, a vampire courtesan who desires Kraven's favour, and Wentworth Miller as Adam Lockwood, Michael's colleague.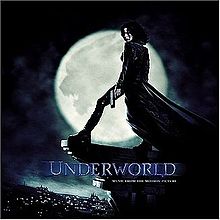 With the screenplay written by Danny McBride, this eerie, flashy fantasy chiller takes us into its dark, scary world with moodily eye-catching cinematography by Tony Pierce-Roberts, striking sets designed by Burton Jones, effortless special effects and thrillingly staged battles.
The film's dark-hued, gothic look is breathtaking, the vampire-werewolf mythology is neatly conceived and the performances are very satisfying. Beckinsale makes a powerful action heroine in the black leathers and armed to the teeth, but even so the show is effortlessly stolen by Nighy's vampire boss.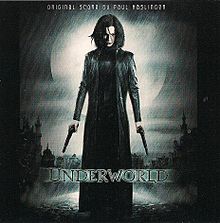 There's an excellent soundtrack produced by Danny Lohner and distributed by Roadrunner Records. Lohner (born 1970), a bass guitarist, guitarist and keyboardist who has recorded with Nine Inch Nails and Marilyn Manson, contributed several songs to the soundtrack under the pseudonym Renholdër. The score is by Paul Haslinger.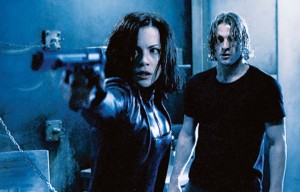 On a cost of $22million, Underworld grossed a very satisfactory $52million in the US and $95million worldwide.
Beckinsale, previously married to co-star Sheen, fell in love with and later married her director, Len Wiseman.
The original cinema version is 121 minutes but the extended director's cut version runs 133 minutes.
Underworld: Evolution (2006), the prequel Underworld: Rise of the Lycans (2009) and Underworld: Awakening (2012) and Underworld: Blood Wars (2016) followed, all starring Beckinsale.
© Derek Winnert 2014 Classic Movie Review 1069
Check out more reviews on http://derekwinnert.com/