Un Carnet de Bal [Dance Program] [Life Dances On] ***** (1937, Marie Bell, Françoise Rosay, Louis Jouvet, Fernandel, Raimu, Harry Baur, Pierre Blanchar) – Classic Movie Review 4299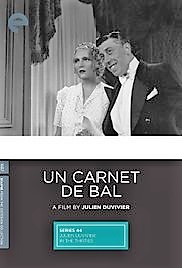 Marie Bell plays Christine Surgère, a newly widowed middle-aged woman obsessed with the memory of a ball she attended at the age of 16.
When she finds the dance-card of her youth, she decides to track down the men she danced with that night of the ball, revisit her old friends and discover their fates.
Cue co-writer/ director Julien Duvivier's famous 1937 French episode film, with bright star cameos from Louis Jouvet as crooked lawyer Pierre 'Jo' Verdier, Raimu as the mayor Francois Patusset, Fernandel as the hairdresser Fabien Coutissol, Françoise Rosay as the bereaved mother Marguerite Audié, Harry Baur as the monk Alain Regnault, and Pierre Blanchar as an epileptic doctor, Thierry Raynal.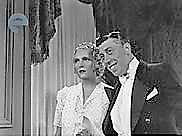 Duvivier's handsome, alluring film, with its beautiful waltz music score by Maurice Jaubert, is a lovely opportunity to see France's most famous cinema faces of the Thirties at work and at around their best form. However, the individual sketches are sometimes on the thin side and, with the passing of so much time, some of this golden film's gilt has fallen off the gingerbread.
Nevertheless, this is essential French cinema from its glory days of its pre-war golden era and one of Duvivier's two masterworks, along with Pépé le Moko (1937).
Also in the cast are Hans Yaray, Yolin Downes, Pierre-Richard Willm, Maurice Bénard, Robert Lynen, Milly Mathis, Sylvie, Andrex and Jeanne Fusier-Gir.
After this, Hollywood then took Duvivier over for The Great Waltz (1938) with Luise Rainer, Fernand Gravey and Miliza Korjus. Un Carnet de Bal was remade by Duvivier in 1941 as Lydia with Merle Oberon, Joseph Cotten and Edna May Oliver.
© Derek Winnert 2016 Classic Movie Review 4299
Check out more reviews on http://derekwinnert.com