Ulzana's Raid **** (1972, Burt Lancaster, Bruce Davison, Richard Jaeckel, Jorge Luke, Lloyd Bochner, Joaquin Martinez) – Classic Movie Review 6545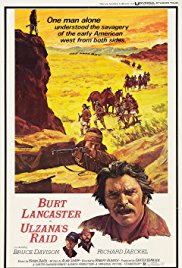 Robert Aldrich directs this very superior 1972 revenge Western with remarkable energy and his usual shameless morals. After years of sympathetic treatment by Hollywood, the Native Americans are brought back to be portrayed once again as the scary marauding bad guys.
Burt Lancaster gives a majestic, dominating portrayal as McIntosh, the grizzled veteran Indian hunter helping a young military captain, Lieutenant Harry DeBuin (Bruce Davison), to hunt down and take revenge on some rogue Apaches in a small war party who quit the reservation for a spree of murder and terror. Joaquin Martinez plays their fierce war leader, Apache Chief Ulzana.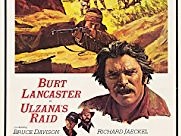 There is a strong support cast to back up the stars: Jorge Luke, Richard Jaeckel, Lloyd Bochner, Karl Swenson, Douglass Watson, Dran Hamilton, John Pearce, Gladys Holland, Margaret Fairchild, Aimée Eccles, Richard Bull, Otto Reichow, Dean Smith, Larry Randles, Hal Maguire, Ted Markland, R L Armstrong, John R McKee, Tony Epper, Nick Cravat, Jerry Gatlin and Richard Farnsworth.
So excellent acting and handling, the, and there is also an intelligent script and exciting, well-orchestrated action, plus fine Technicolor cinematography by Joseph F Biroc, an excellent score by Frank DeVol and strong production designs by James Dowell Vance.
It is one of the feathers in the cap of Aldrich's distinguished career. A lot of the credit must go to Scots writer Alan Sharp's sharp screenplay. It is a tough-toned Western with graphic violence, in tune with films of its era.
The UK DVD release cuts all instances of horses being trip-wired, which contravenes the 1937 Cinematograph Act, passed after the carnage in The Charge of the Light Brigade (1936).
© Derek Winnert 2018 Classic Movie Review 6545
Check out more reviews on http://derekwinnert.com