Two Rode Together ***½ (1961, James Stewart, Richard Widmark, Shirley Jones, Linda Cristal, Andy Devine, John McIntire, Paul Birch) – Classic Movie Review 4235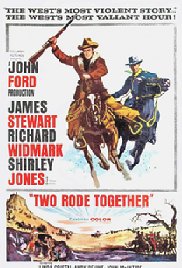 This hard-nosed, well-acted 1961 John Ford film recalls his 1956 classic The Searchers and is very solid fare for Western fans. James Stewart and Richard Widmark have some wonderfully laconic exchanges of dialogue as easy-going but tough Texas US marshal Guthrie McCabe and the uptight US Cavalry lieutenant Jim Gary who are hired to track down white prisoners captured years ago by the Comanches.
The movie intelligently explores the anguish of the settlers over the children they have lost to Indian raiding parties and racial prejudice when one boy, who has become a warrior, is returned to his folks. Ford delivered this quick, profitable Western as a favour to Columbia studio boss Harry Cohn, but later said he did not like Frank Nugent's screenplay, which is based on Will Cook's novel Comanche Captives.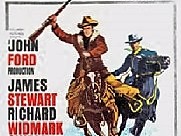 Nevertheless it is a typical Ford film, thoughtful, handsome and under-valued, despite some dead-looking studio exteriors and stagy, talky sequences that haven't dated well. But some of its Eastman Color images look great in Charles Lawton Jnr's cinematography and the film is certainly to be respected and perhaps re-evaluated.
Also in the cast are Shirley Jones, Linda Cristal, Andy Devine, John McIntire, Paul Birch, Willis Bouchey, Mae Marsh, Henry Brandon, Harry Carey Jr, Anna Lee, Olive Carey, Ken Curtis, Chet Douglas, Annelle Hayes, David Kent, Jeanette Nolan, John Qualen, Ford Rainey, Woody Strode, O Z Whitehead, Cliff Lyons, Ted Knight, Frank Baker, Ruth Clifford, Jack Pennick and Edward Brophy.
Widmark said he had more fun on this film than any other: 'I'm a little deaf in this ear and John Ford's a little deaf in the other, and James Stewart's hard of hearing in both. So all through the picture, all three of us were goin', "What? What? What?"'
© Derek Winnert 2016 Classic Movie Review 4235
Check out more reviews on http://derekwinnert