Two-Faced Woman **** (1941, Greta Garbo, Melvyn Douglas, Constance Bennett, Ruth Gordon, Roland Young, Robert Sterling) – Classic Movie Review 2920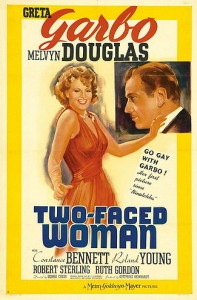 Director George Cukor directs Greta Garbo in a bitter-sweet occasion – her final film in 1941 – in which she plays a double role as twin sisters. MGM is evidently trying to capitalise on Garbo's success in Ninotchka by casting her in a romantic comedy that seeks to portray her as an ordinary woman rather than an untouchable screen goddess.
It was advertised as 'Go gay with Garbo.' It is not known whether anyone took up the invitation. She stars as Karin Blake, a wife masquerading as her provocatively sexy twin sister Katherine to win back her husband, Larry (Melvyn Douglas).
Far from the disaster of legend that put Garbo out of business, Two-Faced Woman is a funny film with a captivating 'modern' performance by the star, who is utterly vivacious whether dancing the rhumba, appearing in bathing costume and swimming, or skiing.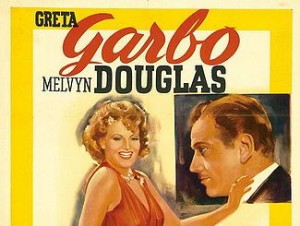 The film was a critical failure but, contrary to popular belief, performed reasonably well at the box office. But it led her to retire from the screen, after acting in 28 films. Garbo, whose career started in 1920 at the age of 15, retired at 36, and, though she continued to attract offers and did eventually get screen-tested for a comeback, was never actually tempted back. She pointed out that she never said 'I want to be alone', she said 'I want to be left alone.'
Douglas is excellent and there's a long roster of amusing MGM regular contract cast members in support, giving of their loyal best, especially Ruth Gordon as Douglas's secretary Ruth Ellis and Constance Bennett as Griselda Vaughan, as well as Roland Young and Robert Sterling.
The movie was a last-minute production swap for Madame Curie, thought to be too downbeat at this point in the war, but eventually made in 1943 with Greer Garson. Scenes involving George Cleveland, Bess Flowers, Connie Gilchrist, Mary Young and John Marston were cut from the final print.
The source play by Ludwig Fulda is adapted by screen-writers S N Behrman, Salka Viertel and George Oppenheimer, and was previously filmed as Her Sister from Paris in 1920. The score is by Bronislau Kaper, the cinematography by Joseph Ruttenberg, the art direction by Cedric Gibbons and the costume design by Adrian.
Also in the cast are Frances Carson, Robert Alton, Olive Blakeney, Hillary Brooke, George Calliga, André Cheron, Jules Cowles, Mark Daniels, Cliff Danielson, Gloria DeHaven, Daniel Estrada, Michaele Fallon, Eily Fitzroy, Arno Frey, Nacho Galindo, Roy Gordon, Eula Guy, Vinton Haworth, Grace Hayle, Tom Herbert, Olin Howlin, George P Huntley Jr, George Lollier, Paul Leyssac, Louis Mason, Walter Merrill, Bert Moorhouse, Odette Myrtil, Douglass Newland, Hilda Plowright, Lorin Raker, Cyril Ring, Carlos Ruffino, James P Spencer and William Tannen.
© Derek Winnert 2015 Classic Movie Review 2920