Two Against the World *** (1936, Humphrey Bogart, Beverly Roberts, Helen MacKellar, Henry O'Neill, Linda Perry, Virginia Brissac) – Classic Movie Review 5621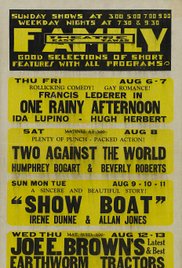 Warner Bros remakes its 1931 movie Five Star Final, though the setting is transferred from newspapers to radio, with a title borrowed from an unrelated 1932 Warner movie. The tale about the muckraking media digging up dirt on innocent people is incredibly up to date but it is rather plainly, ploddingly and dully told.
It was advertised as having 'plenty of punch-packed action' but really it is not that kind of film at all. However the movie is short, easy to watch and does pace up in the second half, delivering interest and finally impact. And it has a star we always love to watch.
Taking over Edward G Robinson's tough New York tabloid editor role, Humphrey Bogart is now playing Sherry Scott, a wireless station manager who firmly opposes his station's policy on digging up new revelations on a 20-year-old murder case in case it harms two women. Scott is supported by his secretary Alma Ross (Beverly Roberts) – they are the two against the world.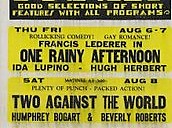 Helen MacKellar plays Martha Carstairs, who was charged with murder 20 years ago and tried but freed in court for the crime, and Linda Perry plays her daughter Edith, who is about to be married to industrialist's son Malcolm Sims Jr (Carlyle Moore Jr).
Director William C McGann's 1936 minor movie moves along quickly in its short running time of 64 minutes, and Bogart keeps it watchable, but even he cannot disguise the movie's basic ordinariness. However it remains still intriguing, relevant and fresh feeling for such an old movie.
No wonder they were advertising 'good selections of short features with all programs' because this main Saturday night feature is only an hour long.
Michel Jacoby's screenplay is based on Louis Weitzenkorn's stage play, Five Star Final.
Also in the cast are Henry O'Neill, Virginia Brissac, Claire Dodd, Hobart Cavanaugh, Harry Hayden, Robert Middlemass, Clay Clement, Douglas Wood, Paula Stone, Bobby Gordon, Frank Orth, Ferdinand Schumann-Heink, Bill Ellliott, Milton Kibbee, Edward Peil Sr, Emmett Vogan, Edwin Stanley, Jack McHugh, Paul Regan, Charles E Evans and Don Downen.
It is shot in black and white by Sid Hickox, produced by Jack L Warner, Hal B Wallis and Bryan Foy, scored by Heinz Roemheld and designed by Esdras Hartley.
It was called The Case of Mrs Pembroke in GB.
The Turner library print is titled One Fatal Hour, runs only 56 minutes and excludes various of the above actors.
© Derek Winnert 2017 Classic Movie Review 5621
Check out more reviews on http://derekwinnert.com