Two Against the Law [Deux Hommes dans la Ville] [Two Men in Town] ** (1973, Alain Delon, Jean Gabin, Mimsy Farmer, Victor Lanoux, Michel Bouquet) – Classic Movie Review 5627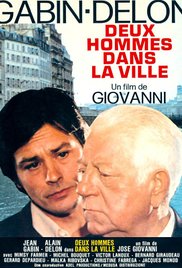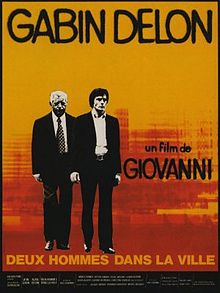 French New Wave icon Alain Delon stars in co-writer/ director José Giovanni's 1973 Franco-Italian thriller as former bank robber and ex-safe cracker Gino Strabliggi, a recently early released prisoner who has served 10 years in jail. He gets help from his good friend Germain Cazeneuve (Jean Gabin), a social worker who befriended him in prison and has worked to help rehabilitate him.
Strabliggi finds honest work and a new girlfriend. But then he finds that the actions of his ex-gang gangster friends and the harassing vendetta of a dogged evil old police officer, Inspector Goitreau (Michel Bouquet) who arrested him a decade earlier and wants to prove that Strabliggi hasn't changed, make it hard for him to stay on the right side of the law.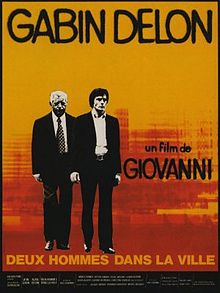 Delon, always at home with such a film noir, gives a sympathetic portrait of a sinister ex-con struggling to stay on the straight and narrow. With its hints of Les Misérables and its picture of a corrupt world where most of the good guys are no better than the bad guys, this is a compelling Euro crime movie, well acted by the remarkable cast, well written by José Giovanni, well shot by Jean-Jacques Tarbès, well scored by Philippe Sarde, and well directed, with an exciting finish.
The 24-year-old Gérard Depardieu, who was to become Gabin's successor in French movies, plays a young tearaway truant gangster, in the year before his breakout role in Bertrand Blier's comedy Les Valseuses (Going Places).
Also in the cast are Cécile Vassort, Ilaria Occhini, Guido Alberti, Malka Ribowska, Christine Fabréga, Robert Castel, Albert Augier, Maurice Barrier, Armand Mestral, Roland Monod, Dominique Zardi, Jacques Monod, Bernard Giraudeau, Bernard Musson and Gabriel Briand.
© Derek Winnert 2017 Classic Movie Review 5627
Check out more reviews on http://derekwinnert.com