Twixt *** (2011, Val Kilmer, Elle Fanning, Joanne Whalley, Bruce Dern, Ben Chaplin) – Classic Movie Review 4734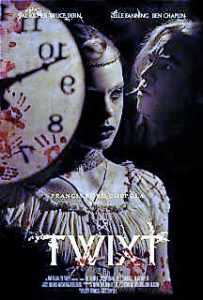 Writer / producer/ director Francis Ford Coppola's teasingly nightmarish 2011 experimental horror thriller stars Val Kilmer as Hall Baltimore a-down-on-his-luck writer who specializes in novels based on witch hunting, and Elle Fanning as young girl Virginia or just V, nicknamed Vampira because of her strange teeth and braces.
Bruce Dern plays Sheriff Bobby LaGrange, an eccentric fan who appears at a book signing and asks Hall to read his latest work and accompany him to the morgue to view a murder victim's body, as it would make a great story. Hall then gets caught up in a murder mystery involving the young girl after a ghost named V appears to him in a dream.
The title refers to the dream and the waking worlds explored in Coppola's film.
Kilmer is reunited on screen with Joanne Whalley who plays Denise, Ben Chaplin plays Edgar Allan Poe, Don Novello plays Melvin, David Paymer plays Sam Malkin and Alden Ehrenreich (from Coppola's 2009 Tetro) plays Flamingo.
Despite its home movie feel, smartened up by some gorgeous visuals by Mihai Mălaimare Jr, it still cost $7 million and took only $368,000 at the box office after being screened at film festivals. Compared with Tetro, it seems less substantial, satisfying or successful, but it is still another highly intriguing and imaginative art movie from Coppola.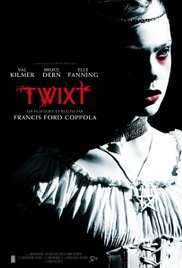 It was shot at Coppola's estate in Napa County, and at locations in Lake County, California, including the City of Clearlake, downtown Kelseyville and Nice.
Dan Deacon scored the film. Tom Waits is the narrator.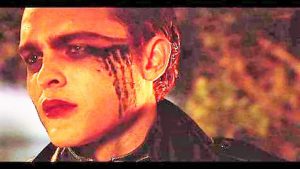 Coppola said the film grew out of dream he had – 'more of a nightmare' that 'seemed to have the imagery of Hawthorne or Poe'.  'I thought even as I was dreaming I could make it as a story, perhaps a scary film. Then some loud noise outside woke me up, and I wanted to go back to the dream and get an ending. But I couldn't fall back asleep. So I recorded what I remembered on my phone. It was a Gothic romance setting so I'd be able to do it all around my home base.'
First discovered by Steven Spielberg at a Bat Mitzvah, Ehrenreich was cast on 5 May 2016 as the young Han Solo in a Star Wars (1977) prequel, after appearing in Coppola's Tetro (2009) and Twixt and as Hobie Doyle in the Coen brothers film Hail, Caesar! (2016).
© Derek Winnert 2017 Classic Movie Review 4734
Check out more reviews on http://derekwinnert.com