Twelve Angry Men ***** (1957, Henry Fonda, Lee J Cobb, Martin Balsam) – Classic Movie Review 10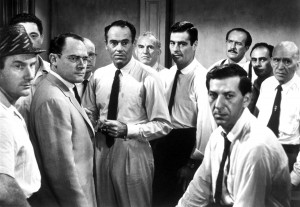 In Sidney Lumet's electrifying 1957 film classic courtroom drama, Henry Fonda gives a true, trusty, stalwart performance as Juror Number 8 in a murder trial. He's a symbolically white-suited architect, who starts as the lone voice of reason in a hot and sweaty New York City courtroom.
Going with the idea of reasonable doubt, he slowly starts trying to convince his all-male fellow jurors to reconsider what initially seems the cut-and-dried murder case of a Spanish-American teenager (John Savoca) killing his father with a switch-blade knife. he's got a lot of prejudice to break through.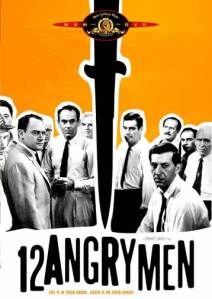 The accused's actual ethnic background is left vague, the only point being the possible prejudice of the white jurors against him. 'It's an open-and-shut case,' says Lee J Cobb's Juror Number 3 and everyone agrees, except Juror Number 8. 'We're talking about somebody's life here,' says Fonda. 'Supposing we're wrong.'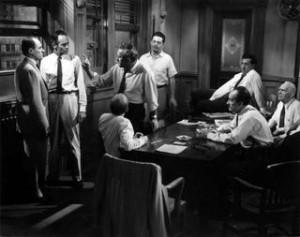 Though based on a single-set TV play (broadcast live in 1954) and using the original teleplay virtually unchanged, this brilliantly written courtroom drama par excellence is impressively cinematic, ingeniously directed and turbo-charged.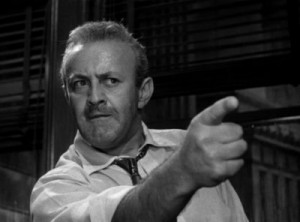 It boasts astonishingly fiery, fully-fleshed performances from the special cast of star character actor worthies. It's unfair to pick anyone out, but Lee J Cobb's Juror Number 3, Martin Balsam's jury foreman, E G Marshall's emotionless stockbroker and Ed Begley's racist juror are outstanding among them.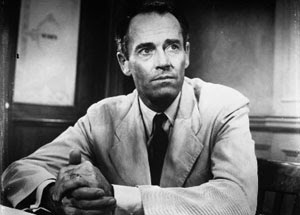 The United Artists film studio asked Fonda both to star and produce, and he hired Sidney Lumet to make his film debut as director after a distinguished career in TV drama. Wise choice – working in such an enclosed space, Lumet's direction is impeccable, whipping up almost unbearable sweaty tension and claustrophobic atmosphere.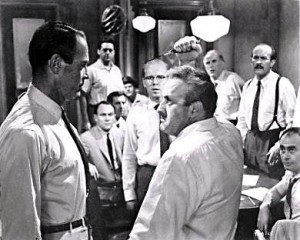 A blueprint of how to transfer a play into a film, it should be studied in film schools and colleges. Rating this, The Ox-Bow Incident and The Grapes of Wrath his best movies, Fonda told Lumet: 'Sidney, it's magnificent.' And he's right.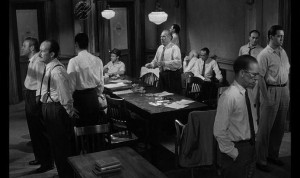 Despite nominations for Best Picture, Direction and Adapted Writing, alas there were no Oscars at all, losing out to The Bridge on the River Kwai. And it wasn't a box-office success either, but it has acquired great critical stature, cult status and public favour as the years go by.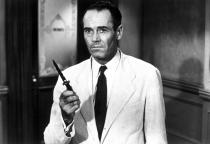 For the record, in order of Juror Number 1, 2, 3 etc, these are the 12 angry men: Martin Balsam, John Fiedler, Lee J Cobb, E G Marshall, Jack Klugman, Edward Binns, Jack Warden, Henry Fonda, Joseph Sweeney, Ed Begley, George Voskovec and Robert Webber.
It was remade as a TV movie in 1997 with Jack Lemmon.
A theatre version graced the London stage in 2014, with Martin Shaw starring and Robert Vaughn among the jurors.
© Derek Winnert 2013 Classic Movie Review 10
Check out more reviews on http://derekwinnert.com/