Transamerica **** (2005, Felicity Huffman, Kevin Zegers, Fionnula Flanagan) – Classic Movie Review 3936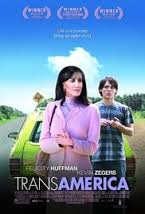 Felicity Huffman gives a brave and brilliant performance as Bree, a pre-operative male-to-female transsexual who takes an unexpected journey when she learns that she fathered a son, Toby (Kevin Zegers), now a teenage runaway hustling on the streets of New York.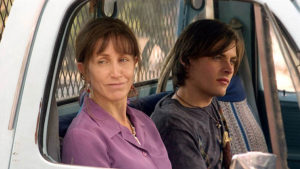 Writer-director Duncan Tucker's credible, moving and humorous movie steps in a potential minefield and comes up smelling of roses. The main triumph belongs to Huffman – she pulls off the remarkable trick of really being believable as a man, as well as a warm and lovely performance – but Zegers is excellent too, and they are very good together.
Huffman won the 2006 Golden Globe as Best Actress. Huffman was Oscar nominated as Best Actress, and Dolly Parton scored a second Oscar nomination for the song Travelin' Thru.
© Derek Winnert 2016 Classic Movie Review 3936
Check out more reviews on http://derekwinnert.com