Trainspotting ***** (1996, Ewan McGregor, Robert Carlyle, Johnny Lee Miller, Ewen Bremner, Kelly Macdonald, Kevin McKidd, Peter Mullan, James Cosmo) – Classic Movie Review 35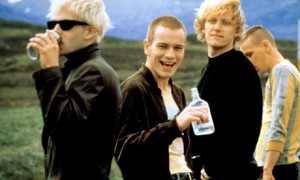 Director Danny Boyle's multi-award-winning 1996 film, based on the novel by Irvine Walsh, is rightly acknowledged to be one of the most original and imaginative films to come out of Britain in the Nineties. Arguably, though, it ultimately turned out to be less influential and less popular than the equally famous, yet lesser British work of the time, Lock, Stock & Two Smoking Barrels (1998).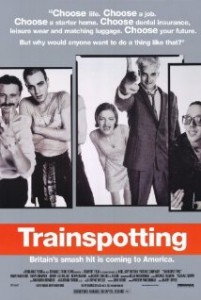 Its extreme story, set in a decidedly non-tourist Edinburgh that wouldn't please the city fathers or the tourist board, is a relentless, unforgiving one of life in a hell of extreme drug-taking, survival, scams, friendship and tragedies. The marvellous young cast, all on its way up, is headed by Ewan McGregor as Mark Renton, who is trying to clean up his act as a heroin abuser, despite the influence of his pals – Robert Carlyle as the psychotic Francis Begbie, Ewen Bremner as the dim-witted Spud and Johnny Lee Miller as Sick Boy.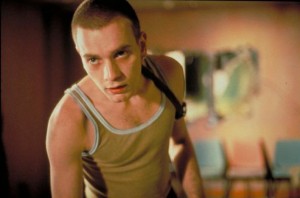 Among the other characters, Begbie has an under-aged girlfriend, Diane (Kelly Macdonald), and then there is the previously sporty and clean-as-a-whistle Tommy (Kevin McKidd) now attracted to the world of drugs, Peter Mullan's Swanney and James Cosmo and Eileen Nicholas as Renton's troubled parents.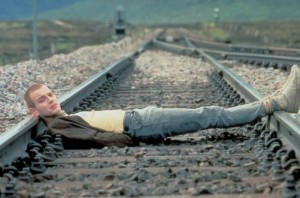 Excellent though the whole cast is, it is McGregor and Carlyle you remember, etching indelible, iconic Nineties characters onto the screen. The film's dazzlingly directed by Danny Boyle, with a brilliant adapted screenplay by John Hodge and stunning cinematography by Brian Tufano. The scene where Renton's parents force him off heroin is as imaginative as it is harrowing.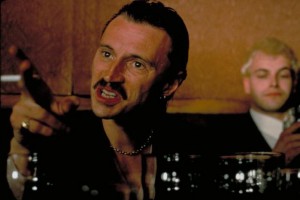 The film supposedly carries a moral anti-drugs message as Renton is nearly destroyed by drugs, yet, seeming to relish and oddly glamourise its drugs scenes, its message seems somewhat ambiguous, so you could say this film is dazzling but deplorable. You certainly need to approach it with great caution with its portrayal of heroine use, very strong language, sex, nudity and violence. Yet it is definitely a very considerable work of art and craftsmanship, and yes, probably pretty much a work of genius too.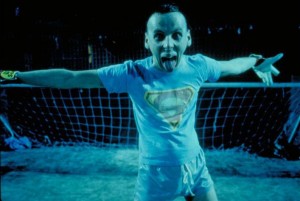 The classic songs from Eno (Deep Blue Day) and Iggy Pop (Lust for Life, Nightclubbing) help establish the atmosphere.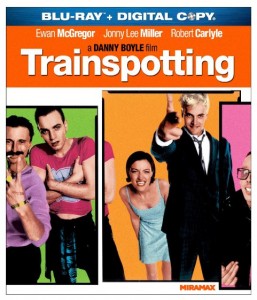 It swung a few awards, not too many. John Hodge was nominated for an Oscar for best adapted screenplay and actually won the Bafta and Evening Standard awards. The score won the best soundtrack award at the Brit awards. It won four honours at the Empire Awards, including best British film of the year. The London Film Critics wisely voted McGregor best British actor of the year and Andrew MacDonald best British producer.
Also in the cast are Susan Vidler, Pauline Lynch, Shirley Henderson, Stuart McQuarrie, Irvine Welsh, Dale Winton, Keith Allen, Kevin Allen, Annie Louise Ross, Billy Riddoch, Fiona Bell, Hugh Ross, Victor Eadie, Kate Donnelly, Finlay Welsh, Eddie Nestor, Rachel Fleming and John Hodge.
McGregor previously worked with Boyle on Shallow Grave (1994) and went on too make A Life Less Ordinary (1997) with him.
The four stars return for a sequel, T2 Trainspotting, which is released in the UK on 27 January 2017 and in the US on 17 March.
Facts about drug abuse problems: http://drugabuse.com/library/get-the-facts-on-substance-abuse/
http://derekwinnert.com/lock-stock-two-smoking-barrels-classic-film-review-120/
http://derekwinnert.com/shallow-grave-1994-danny-boyle-classic-film-review-1059/
© Derek Winnert 2013 Classic Movie Review 35
Check out more film reviews on http://derekwinnert.com